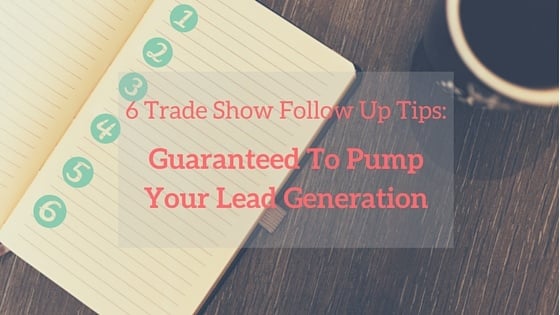 6 Trade Show Follow Up Tips To Pump Up Your Lead Generation

Deborah Brown
Reading time: A quick 2.5 minutes, to get your day started!
So, you've been pitching your solution and networking non-stop for five days straight at a not-to-be-missed trade show, and feel pretty proud of your legs' ability to remain standing; but all that shop-talk has taken its toll and you feel a well-earned break is in order - not so fast. I'm sorry to break it to you, but now is the money time, trade show follow ups. Allowing too much time to pass between that initial handshake and engaging your new contacts can seriously undermine your objective to turn them into sales qualified leads. In fact, this is the period where all that hard work is about to pay dividends.
To help you turn leads from trade shows into promising prospects, I've compiled 6 must-do's that every business owner should invest in following a successful networking event. While the examples provided reference Hubspot marketing automation as the platform of choice, it is more about the process and actual 'doing' than the platform you decide to work with. So read on...
1. Allocate tasks: Who does what?
This is something that you need to think through carefully before starting to allocate tasks. Consider your timelines, resources and people at your disposal to give clarity around who needs to be doing what. Remember, not all incoming leads will reside in the same area of the sales funnel; some may be at the awareness stage of the buying process, while others may be considering a solution at the time of meeting them. Keeping focus of the buyer's journey will help you understand how to engage your leads and deploy the right resources at the right time. For more information on the sales funnel and how you can guide your leads toward a buying decision, check out our blog on how tech giant, Palo Alto, employs the sales funnel in their Google Ads campaigns.
2. Input the leads from the trade show into your CRM
Your customer relationship management (CRM) system is the backbone of your sales funnel. By accurately entering your contacts' information into your CRM, you can analyse where each lead is in the customer lifecycle; so remember, the more details the better. Fields in your CRM system, such as lead source, last contact date and buyer's stage can help you better segment leads and identify relevant engagements and tactics for building on relationships individually. Hubspot's CRM solution is particularly flexible in terms of how you can manipulate customer views, input fields and viewing buyers' lifecycles according to the stages of the funnel they reside in. This information will help you to start implementing your post-trade show program armed with a more refined strategy and more targeted and personalised lead nurturing tactics.
3. Qualify your leads
With the abovementioned points in place, you can start qualifying the leads that you've accumulated at the trade show. Define what a hot lead or a cold lead is post-trade show. You need to use this information to determine whether the lead is at the top of the funnel (they have just shown interest in your business) or whether they are closer to the bottom of the funnel (closer to a buying decision). Also, consider how many touch points you need with each prospective client and assign those leads to the relevant people (pre-sales, marketing, customer service, etc.) to move them along on the buyer's journey and at which point someone needs to pick up the phone and call the lead.
4. Create the relevant content
An effective inbound marketing campaign means that you don't need a team of salespeople picking up the phone and calling each lead at random. You will need the right type of content ready to send to different leads after your initial interactions in order to verify which lead is ready and which requires information in order to move down the funnel. Top of the funnel leads need to be educated about what you offer and bottom of the funnel clients require sales-ready content.
You should have the following 'must have' types of content ready to send to leads in their various stages of their respective journeys: A landing page on your website; a thank you page; a thank you email; a call from one of your sales team members; a personal meeting invitation; and an additional type of interaction relevant to your prior interactions. These are a few templates that'll get you started.
5. Automate the entire process
With all the information, timelines, responsibility allocations and content at your disposal, you need to organise the automation process. Workflow is HubSpot's marketing automation tool that can help you organise the automation process. Here's a screenshot of what this looks like: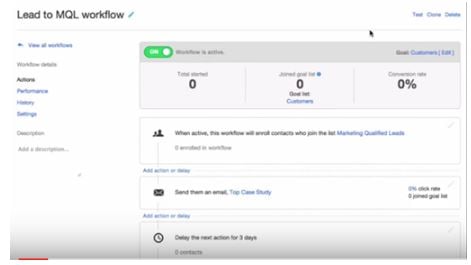 The workflow process allows you to create targeted lead nurturing processes which includes all the context that is needed for someone to assist the buyer through the customer lifecycle. HubSpot gives you the option of creating your own workflow from scratch or choosing from several tried and tested strategies. You can input data such as the customer lead score, personas and contact property into HubSpot to assist with the automation: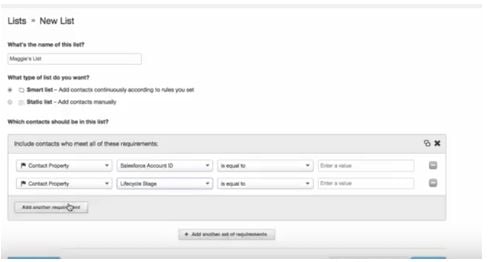 6. Measure and refine
HubSpot can help you determine what a conversion means for different leads and helps you track your conversion goals. This data will show you where you can continue to refine your strategy to make the automation process more efficient.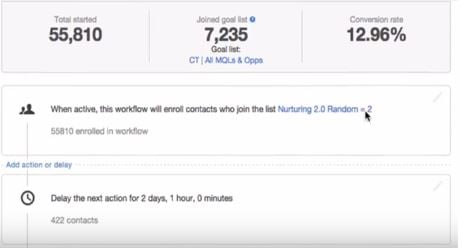 Don't have Hubspot? Do not fear, these same processes can be done semi-manually and with cheaper tools. A CRM however, is a must to make something out of the hefty list of contacts you will be gathering. We can help you with that. Contact us for a free consultation to learn more about the inbound way and how we help our clients reach the right people with the right message; every time.