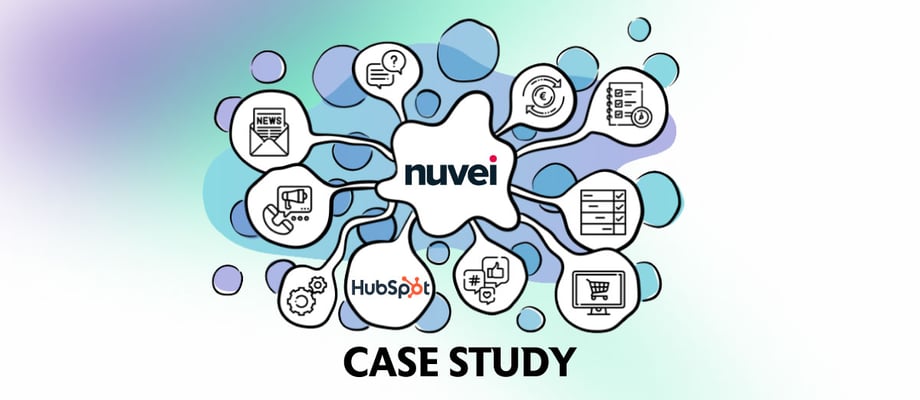 Nuvei: A Successful HubSpot Case Study

Ronit Iaroslavitz
TL;DR
Let's recap how implementing HubSpot allowed Nuvei to jump-start its marketing approach:
HubSpot became the unified platform that consolidated Nuvei's marketing efforts. By replacing multiple tools and applications with a single hub, Nuvei achieved an efficient, productive marketing strategy.
HubSpot enables Nuvei to nurture and qualify leads effectively. The platform's marketing automation capabilities combined with its ability to integrate with Salesforce to revamp Nuvei's lead nurturing and qualification process.
HubSpot gives Nuvei clear visibility into the percentage of marketing-generated leads along each stage of the sales funnel. This data provides Nuvei with the confidence to make better business decisions and prioritize ongoing marketing efforts.
The HubSpot Automation Details
Nuvei, a Canadian fin-tech company, partnered with ENVY to sort out its digital presence with HubSpot for automation and Account-Based Marketing (ABM). Just like so many companies before it, Nuvei had been using multiple marketing tools, which made tracking a total nightmare. On top of that, manual lead management was holding Nuvei back from effectively qualifying and nurturing leads and they had very little reporting capabilities.
Maya Azaria Shelly, Head of ABM at Nuvei, explained, "We weren't using any marketing automation tools, and since our sales team uses Salesforce, all leads were added there directly."
The company had a lead contribution imbalance that would make even a seesaw jealous. Attribution data showed that marketing was responsible for a measly 2-3% of leads, while the sales team carried the weight. How could that be accurate? Visibility through one platform that consolidated their marketing efforts was key.
Envy's team implemented HubSpot and joined forces with Nuvei's teams to unite their marketing efforts and introduce measurable lead-generation results. Since the implementation, Nuvei's team was able to report on the percentage of marketing-generated leads in 2022 by funnel stage:
MQLS= 36%, SQLs= 39%, Opp= 23%, Customers= 19%, Total = 25%.
The percentage increase in 2022 vs 2021 was 54% in the total number of leads. Crazy!
Nuvei had several goals in mind when implementing HubSpot, including tracking marketing activities, reporting on marketing impact, setting up marketing automation, integrating with Salesforce, and aligning all marketing and sales team members around a shared database.
Since adopting HubSpot, Nuvei has been able to launch digital campaigns and run account-based marketing (ABM) campaigns effectively. Unsurprisingly, they find HubSpot highly usable, with a user-friendly interface and excellent support. The platform integrates well with other tools, including sales CRM and prospecting tools. As Azaria Shelly summed it up, "HubSpot is the most useful tool for us, [its] UX is one of the easiest (compared to others), and the support system is great!"
Reporting and measuring conversions have become more accurate and efficient with HubSpot, enabling Nuvei to demonstrate marketing impact on lead generation and track the percentage of leads at each stage of the funnel.

As mentioned above, one of the key benefits of HubSpot for Nuvei is improved communication between marketing and sales. Sales teams now have access to valuable insights about the lead's journey, allowing them to tailor their approach and close more deals. The overall impression of HubSpot is positive, particularly for larger organizations with higher budgets.
Nuvei recommends starting with the essentials and gradually upgrading to more advanced features as needed.
Looking ahead, Nuvei plans to focus on account-based marketing, leveraging its existing database and integrating more relevant leads. They also intend to make active use of integrations to enhance lead targeting and enrichment.
In summary, implementing HubSpot has transformed Nuvei's marketing department, shifting them from an organic approach to a more digital one based on measured ROI and data-driven decision-making.
Want to Know How HubSpot Can Help Your Business Too? Let's Talk.
If you're inspired by Nuvei's success story and want to hear how HubSpot can benefit your business, ENVY is here to help. Contact us to schedule a demo or explore more success stories.