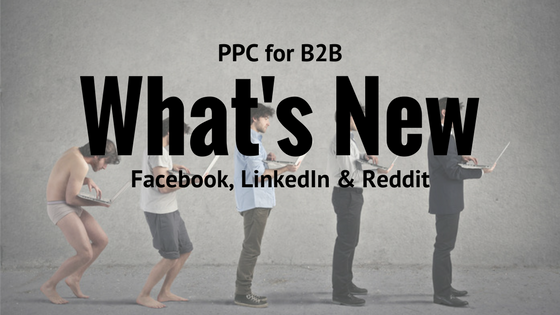 PPC for B2B: What's New on Facebook, LinkedIn & Reddit - Part 2

Amit Lavi
Reading time: 5 mins should do it!
We all know it's imperative to constantly develop new strategies for tangible growth and marketing ROI. Last week I talked about Google AdWords' latest updates and features in PPC for B2B and this week I'd like to dive into what the social channels have to offer.
Let's see how the top tools and features in PPC for B2B can help us as marketers address the challenges and complexities that we'll be presented with over the coming months.
1. Updated Facebook Business Pages Improve Conversions
B2B marketing tools on Facebook have experienced a massive update, cementing the fact that social media is still a vital tool within the sales funnel. Facebook business pages are not static as they used to be, customers can now complete a range of conversions such as purchasing, engaging with Messenger bots, requesting quotes, and scheduling appointments.
The Facebook Pages app now allows companies to link Facebook, Instagram, and Messenger to manage communications (comments, reviews, messages, and visitor posts) across all three channels within one app. Further, page managers can also access data about previous interactions with their business. This significantly eases the management of channels that many B2B advertisers tend to ignore.

PPC on social channels will be more effective with a strong community and using the new Pages App is a must for driving your community forward. In a world where B2B and B2C turned into B2H, you can't afford not to have presence where your clients are spending most of their time.
2. Facebook Live, Video, and Carousel Image Ads
Facebook's ad platform is also going through a continuous phase of innovation, creating new ways to target users. At the moment, it offers the carousel, image, and video ads. But expect new features such as voice search, in the near future. As Facebook improves its platform, it is becoming more important for PPC for B2B.
As videos are important in the B2B sector, the carousel can be utilized to effectively enhance brand awareness with lightweight videos. As the name suggests, this tool enables you to use existing images, text, and music.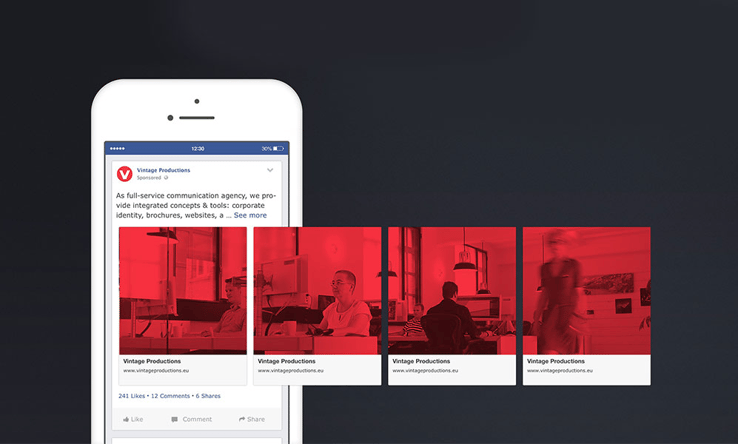 Get your mind wrapped around it, as carousel ads can drive up to 10 times more traffic than static image ads with a higher (72%) click-through rate.
3. Combine Remarketing with Split Test Ads on LinkedIn and Facebook
A/B testing or split ads are a great opportunity to test different messages or different content offers and see which one drives more of those coveted marketing qualified leads. This feature is now available on both Facebook and LinkedIn.
You can now use the LinkedIn campaign manager to set your PPC campaigns to "Rotate Variations Evenly" and gain valuable insights about ad performance and its different variations. Further, you can merge your insights with data about other B2B audiences based on their interaction on your website and page visits.
This will give you access to the following data:
Potential customers who visited your page
Audience post engagement
Who clicked on a call to action button
Who sent the page messages
This essentially means that you can engage in two separate campaigns. One for those who stayed on your site for more than a minute (ads for whitepapers) and another for those who stayed for less than a minute (ad for another blog). However, the topics of the blogs and whitepapers should be relevant to the pages visited on your website and social media.
4. New Audience Targeting Facet on LinkedIn – "Years of Experience"
A great new targeting option on LinkedIn for B2B marketers is the new "years of experience" feature. It can help better target LinkedIn PPC ads by narrowing in on decision makers with specific years of experience in a field. This feature makes the social platform still a comprehensive player for the B2B marketers as you can spend your budget targeting the right people by weeding out the rest.
Further, there are still features like dynamic ads and sponsored inMail that make it easy to direct your marketing efforts to the right audience. These tools keep improving and evolving, but don't forget to implement conversion tracking to track your previous leads.
5. Target Software Developers and Engineers via Reddit
Although Reddit may not seem like the obvious choice, it's another great option for social media advertising. Not only can you target software developer and engineers, you can also find decision makers.
Marketers can take advantage of text ads that link to another Reddit page or to your company landing page or website. But you also need to utilize the data from your campaigns to track results.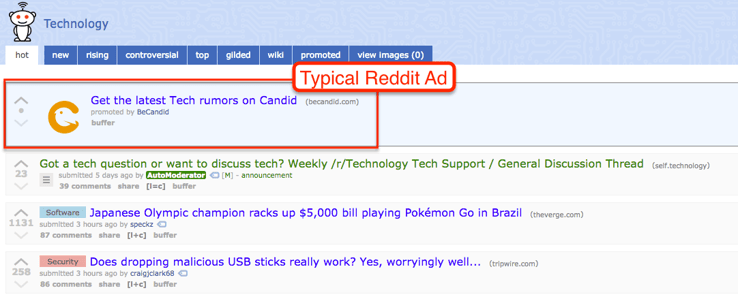 To get the most out of your Reddit ads, you have to enhance your interaction with those who respond to them. Further, you must ensure that you add real value to the debate in the comments. By doing this, you are encouraging users to not only be spectators, but to also interact directly with your ad and brand.