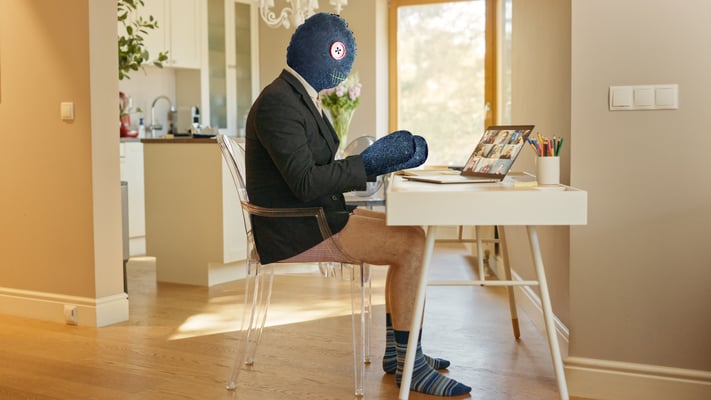 The Top 9 Virtual Cyber Security Trade Shows for 2020

Billy Cina
COVID-19 didn't kill cybersecurity conferences; they've just moved online. Attend the best virtual cybersecurity conferences of 2020 from your home, office, or home office, and keep expanding your cybersecurity knowledge.
Earlier this year, we excitedly shared our top 25 Virtual Cyber Security Trade Shows for 2020. If you were looking forward to them as much as we were, you're probably very disappointed that so many were cancelled due to COVID-19.
But all is not lost; many others simply shifted online, forming an impressive virtual cybersecurity conferences 2020 lineup, and now it's even easier to attend. All you have to do is register, and log in. No jet lag required. We've gathered the 9 finest virtual cybersecurity conferences for 2020.
1. Security Summits
June-December 2020
Cost: Unknown
SecurityWeek has really thought outside the box with this series of virtual cybersecurity tradeshows. They're enabling online attendees to network and interact with each other, and even visit online sponsor booths, as well as tuning in to panels, lectures, and discussions about the latest cybersecurity threats and DevOps challenges.
Every month, the 1 or 2-day summit will focus on another aspect of cybersecurity:
ICS Lockdown (IIoT/SCADA | July 8-9, 2020
Threat Intelligence Summit | July 23, 2020
Cloud Security Summit | August 13, 2020
CISO Forum | September 23-24, 2020
Threat Hunting Summit | November 18, 2020
IoT Lockdown | December 10, 2020
2. HITBSecConf
July 20-24, 2020
Cost: Livestream is free
2-day training: USD1899
3-day training: USD2599
4-day training: USD3499
The Hack in the Box Security Conference, or HITBSecConf, is one of the cybersecurity world's most eagerly-awaited events, and it's not letting COVID-19 stop it. Instead, it's moved fully online, with all the same high-level discussions about hardcore technical solutions and next-generation cyber security challenges.
The prestigious two-day Capture the Flag-style live hackathon is still going ahead, as well as all the intensive training courses which have been adapted for remote delivery. You can tune in to a free livestream of all the conference talks on YouTube, and keep track of what's going on with the hashtag #HITBLockdown002.
Keynote speakers include Alex Matrosov, Chief Offensive Security Researcher at NVIDIA, Eddie Schwartz, Chief Security Officer at Block.one, and Jennifer Leggio, Chief Marketing Officer of Claroty.
3. DEFCON 2020
August 6-9, 2020
Cost: Unknown
DefCon cybersecurity conferences are usually fun, frenetic, and intense conference experiences. This year, that's all moving online to a free virtual cybersecurity conference that the organizers hope will include all the best parts of the regular in-person events.
There's no information about specific talks or events just yet; the organizers say they're planning everything on the DefCon forum and will open it up on August 6th for the online cybersecurity conference to begin on August 7th.
4. Black Hat USA @BlackHatEvents
August 1-6, 2020
Cost: $995
Black Hat is one of the biggest cybersecurity conferences in the world, so it's a relief to know that this COVID-19 cybersecurity conferences event is taking place online, with the same high level of talks about security research, developments, and trends.
Black Hat USA will also deliver the same in-depth training in technical offensive and defensive hacking skills from industry experts. Don't miss events like 'How to use the CQForensic Toolkit', led by Paula Januszkiewicz, owner at CQURE.
Follow updates at @blackhatevents and #BHUSA.
September 14-15 2020
Cost: Unknown
The Israel HLS and Cyber conference is a showcase of over 100 Israeli companies that excel in the field of evolving cybersecurity. The online event will be a way for cybersecurity marketers and other cybersecurity professionals to discover the latest innovations in cybersecurity and discover emerging data security trends. As well as talks and discussions, there will be virtual meetings between entrepreneurs, investors, and potential customers.
6. AusCERT 2020
September 15-18, 2020
Cost: Unknown
AusCERT is Australia's oldest cybersecurity conference, usually boasting around 800 participants. This year, it's moving online, making it even easier to hear the 50 awesome speakers.
The conference theme "We can be heroes" focuses on equipping everyone in your team with the tools and knowledge they need to be cybersecurity heroes. Stay in the loop by following @ausCERT on Twitter.
7. Global Security Exchange (GSX)
September 21-25, 2020
Cost: From $110/day or $450 for full event
After some uncertainty, the GSX team has confirmed that they'll be running their online conference this year. GSX 2020 will be recorded live and made available on-demand online as soon as possible.
The conference will feature over 80 education sessions, a virtual exhibition hall, and online networking opportunities. Keep track of the latest updates with the hashtag #GSXPLUS.
8. 31st ISF Annual World Congress
November 16-18, 2020
Cost: Unknown
The ISF Annual World Congress is a must-attend event for every cybersecurity professional and cybersecurity marketer, and now that the decision has been made to hold it online, there's no excuse not to participate.
The 31st Congress is an opportunity to learn about current security challenges from global industry leaders. More details will be announced soon, so follow @SecurityForum to keep up to date.
9. SANS Security Awareness Summit
December 1-4, 2020
Cost: $1,500 for summit attendance; $2,800 for each training course
The SANS Security Awareness Summit is currently being planned as an in-person in Austin, TX, and as a concurrent live online event, so that it's guaranteed to take place in some form or other. It's designed to educate and inform all security professionals, with interactive discussions, networking opportunities, and expert talks, along with intensive workshops and training sessions. Follow @SANSInstitute for more information.
Take part in the best virtual cybersecurity conferences 2020
Don't let COVID-19 prevent you from learning and exploring further in the world of data and information security. You can still enjoy these COVID-19 cybersecurity conferences and many more online cybersecurity conferences, from the comfort of your home.
Now you have your calendar packed to the brim with the best Virtual Cybersecurity Conferences 2020 events, it is time to get your cybersecurity marketing up to scratch. Drop us a line for more information.
PS: If you found this helpful, I'd really appreciate if you can click here to share it on Twitter - besides helping my ego, it's just fun to get notifications 😉