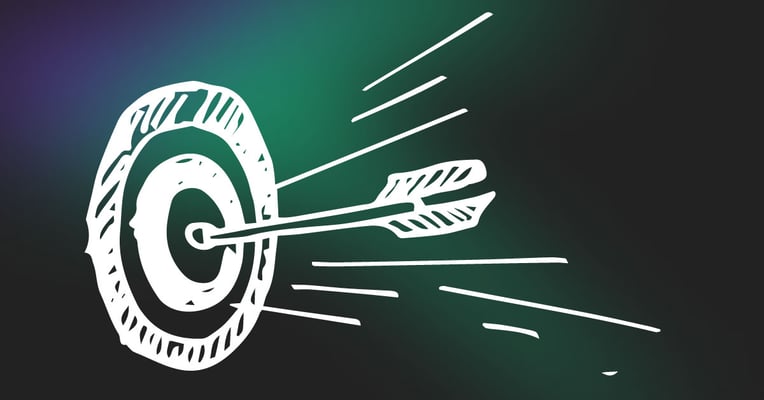 How to Run an Account Based Marketing Campaign That Actually Works

Billy Cina
We've all been there: Crafted our content plan to include a remarkable eBook, meticulous landing page and paid ads to die for. Written the slickest nurture emails, supporting blogs, and lavish workflows. Tens of thousands of dollars and a couple of months into the campaign you're abruptly stopped in your tracks.
Why? The sales team isn't happy with the leads.
At all.
How can this be? They signed off on the target industry, audience and persona. The data you collected for the eBook was jam packed with insights that made them shudder. They laughed out loud when they read the copy. The strategy was executed to perfection. This didn't make any sense!
Sound familiar? We know. It happens so often in B2B tech companies when sales <> marketing are not fully aligned on their goals, messaging and who precisely they're targeting. When you cast a wide net for lead generation, the majority of the leads are not going to be relevant for a very long time.
And then along comes the hero of the B2B marketing story:
Account Based Marketing (ABM).
ABM minimizes the time spent on irrelevant prospects, while decreasing overall spending. In addition, as businesses are starting to realize the potential of personalized campaigns, ABM is quickly becoming the go-to strategy for B2B tech companies aiming to improve their marketing and sales alignment.
ABM solves issues that have emerged with the increased use of automation tools.
Firstly, many CRMs have become junkyards for leads, with no organizational structure and endless old contacts who have moved on from their original contact company.
Secondly, while traditional online and offline lead generation techniques are fantastic for generating large quantities of top-of-the-funnel (and largely unqualified) leads, the process of ABM drives companies to qualify and then decide which of the companies they aim to progress further down the funnel.
Importantly, ABM demands sales <> marketing alignment. It stops those hair-tearing, soul-destroying arguments over which leads to focus on. Now both teams have a hyper-targeted focus on specific accounts and know who to invest that precious energy into. Voila, both sales and marketing teams are aligned, time is saved, quality leads are flowing in and your ROI is up.
The 5 Success Factors You Need to Implement ABM
1.

Get your Sales & Marketing teams to (truly) work together
In order to maximize the efficiency of an ABM campaign, teams from different departments, especially those from marketing and sales must converge and act in accordance with a shared strategy. As a result, teams involved in the campaign are using the same data from different sources, thus, creating a data-driven ideal customer profile (ICP).
2. Identify Accounts
As a first point of call, your aligned ABM team should agree on the factors that are the most important for defining target accounts. These could include:
Revenue Potential: Your target audience should be able to fall into your product or service's price bracket.

Best Fit Accounts: Identify accounts and individual buyers that are aligned with your marketing personas.

Strategic Importance: Aim for accounts that match your company's business strategy. Are they your ideal customer?

Geography: Targeting accounts in relevant regions, such as regions where your sales team is located, will facilitate the sales process.

Product Needs: Start with the low hanging fruit; identify accounts that can make clear use of the solution you're offering.
It takes open conversation, shared data and business intelligence to map leads, pinpoint key internal players, and prioritize them for targeted marketing.
3. Establish KPIs
In order to know whether you're rocking your ABM campaigns, you need to decide what your KPIs are. Consider including:
Page views per target account and/or per role
How many companies match your customer personas
The number of accounts that visit your website or engage with your content
Account and role-specific conversion KPIs like meetings booked, deals created, purchases completed.
You'll need KPIs to track every stage of your ABM funnel.
4. Prepare multi-channel content
Relevant, engaging content is the keystone of every marketing campaign, but ABM content should also be personalized and timely for each target. Keep messaging focused on the account's pain points, budget constraints, and additional demands.
Because your campaigns are hyper-targeted, you'll need to spread them across multiple channels to offer numerous opportunities for engagement, so keep that in mind when you calculate budgets for clicks and channels. Blend touchpoints like blog content, paid ads, personalized email and text messaging, and multi-touch SDR strategies.
5. Maintain relationships
You've engaged that lead and converted a target account into an active buyer, what now? Keep up the relationship and transform them into a loyal client and brand ambassador. Send relevant follow-up content, check in at the right intervals, and ask for feedback to improve your product and marketing even more.
See our Account Based Marketing playbook here
Creating an ABM Campaign in HubSpot
A great ABM platform helps you implement ABM seamlessly and scale easily to add more accounts as your business grows. You'll need to research the different options, but our all time favorite is the HubSpot ABM.
HubSpot ABM workflows make it easy to set up an ABM campaign by automating operations and tasks. Default workflow templates like "Sort companies by ideal customer profile fit" and "Company ICP Score" help you spot appropriate leads for ABM. HubSpot ABM's paradigm offers 6 distinct phases — Build, Identify, Create, Attract, Engage, and Measure — to help you clarify the ABM process.
You'll find that HubSpot's integrations help you apply demographic information to multi-channel paid ad campaigns to make them more effective and deliver a higher RoI. HubSpot allows you to send personalized messages to contacts outside of your database and across multiple channels without losing track of engagement metrics.
The ABM dashboard helps you track accounts so that you can measure their progress through the ABM funnel, and its default report templates like "Target accounts by page views" and "Buying role by target account" are designed to assist with measuring and reporting your awesome ABM results.
The KPIs You Need for Effective ABM
The right data and visualizations help align marketing and sales so they can push leads through the funnel together. It takes coordination between both departments to engage with accounts at the right time, score them correctly, and identify their progress through the funnel so that they turn into the qualified leads that make sales reps happy.
HubSpot ABM helps with template reports and default workflows that display vital KPIs for easy consumption.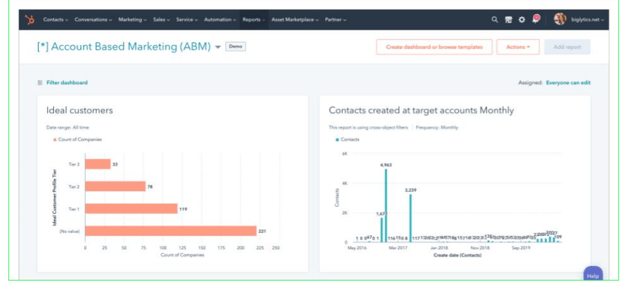 Report templates include:
Ideal customer profile tier

Contacts created at target accounts

Target accounts by page views

Target account total by source

Buying role by target account
ABM Is Your Key to Personalized Marketing at Scale
Personalization is at the heart of ABM campaigns. Products, marketing campaigns, and customer support all need to be customized for each of your customers and leads, but you still need to manage your business at scale. ABM is a key factor in "personalization at scale," fueling targeted, responsive marketing campaigns that bring in new customers and strengthen your relationship with existing ones. With ABM, marketers and sales teams become a dream team, who have clear rules set out on who to target. It has the potential to restore order to your lead generation efforts, bring in new and highly relevant leads and grow your bottom line.
Final words before you download the even more awesome eBook:
ABM is a wonderful methodology but it doesn't replace good wider target audience marketing. Ideally, a B2B tech company's marketing effort needs to be split between ABM and wider, still targeted marketing. In other words, mixing both marketing techniques, but also finding the correct ratio, is crucial to maximizing revenue potential.
Take Me to the Full eBook | Download the eBook

PS: If you found this helpful, I'd really appreciate if you can click here to share it on Twitter - besides helping my ego, it's just fun to get notifications 😉