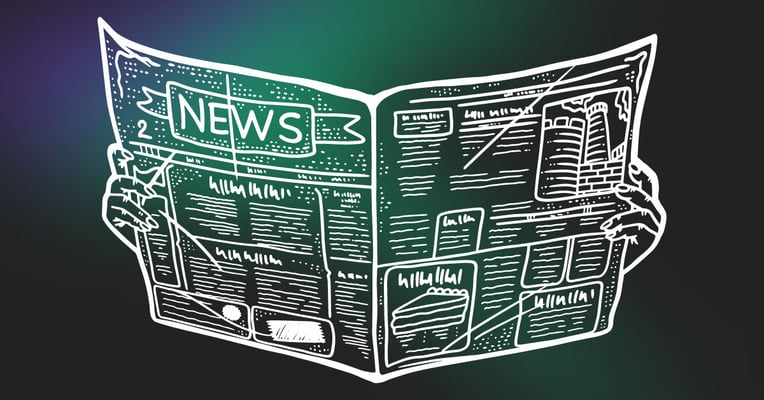 28 Cyber Security Resources B2B Marketers Need in 2022

Billy Cina
To help you stay up to speed with everything cyber security, we've pulled together a roundup of the top cyber security resources currently out there. Are we missing any?

I The Blogs
Twitter: @ContainerBlog

From the people who bring you Security Boulevard, this blog focuses specifically on container security, including Docker and Kubernetes security. Led by experienced journalists and technologists, the site offers compelling content on all aspects of containers, from philosophy to tools, best practices, business impact and more. Formats include in-depth features, bylined articles and breaking news, making this site an absolute must-read for DevSecOps and anyone who works with containers.
Post frequency: Around two a week

Twitter: @CSOonline
A product of tech media company IDG, CSO delivers insightful content across all security disciplines including network defense, fraud, risk management and more with the aim of offering the information you need to make key decisions and investments. Targeted to CISOs, the blog covers news such as new hires, product launches and conferences, in addition to industry developments.
Post frequency: Daily

Twitter: @The_Cyber_News

An independent cyber news platform, Cybersecurity News positions itself as a useful resource for the community. Updates include the latest news on malware, ransomware, major breaches and prevention. It also has a section devoted to top tools for a wide variety of cyber security sectors, from Kubernetes security to Penetration Testing.
Post frequency: Daily


Twitter: @DarkReading

One of the most popular cyber security news sites, Dark Reading provides thorough coverage of all aspects of security with a focus on Cloud, IOT, and Compliance. The site also monitors global security threats. Featuring twelve sections headed up by editors who collaborate with security researchers, specialists and analysts, the content is designed to provoke conversations. The site encourages participation through live chats and discussion boards, in addition to offering a range of very popular newsletters.
Post frequency: Often; multiple posts daily
Twitter: @InfoRiskToday
Published by Information Security Media Group, Inforisk Today specializes in risk management content, including news, education and analysis. The site aims to go beyond industry news reporting to offer a platform for industry insiders, providers and risk management practitioners to have their say. From offerings including interviews to webinars to agency releases and downloadable whitepapers/interactive e-books on best security practices, there's plenty to see.
Post frequency: Often; multiple posts daily
Twitter: @IT_SecGuru

Based in England, IT Security Guru publishes a daily digest of breaking IT security news designed to be accessible and interesting. The site also gives a platform to innovative experts by inviting contributions from around the world (English language only). Covering a wide range of topics from cloud security, to malware to IoT, you'll be kept busy for hours.
Post frequency: Often; multiple posts daily
Twitter: @NakedSecurity

Hosted by Sophos, the multi-award winning (we're talking 15+ awards and counting from prestigious names like RSA) Naked Security blog offers news, opinion, advice and research on internet threats and security issues. The site also offers a newsletter, a weekly podcast (with bonus episodes thrown in) and countless free tools.
Post frequency: Most days
Twitter: @securitledger

Widely recognized as a leader in the field, Security Ledger is an independent site with a focus on the intersection of cyber security with politics, business and commerce. It also specializes in security as it relates to the Internet of Things. In addition to news pieces and opinions (it invites contributions). The site also offers daily and weekly newsletters in addition to popular podcasts, including a series on Women in Cyber security.
Post frequency: Daily

Twitter: @SecurityWeek

This magazine-style online publication takes a more in-depth look at all the latest cyber security news, offering columns by experts on all aspects of cyber security including cybercrime, risk and compliance, malware and threats, and security strategy. The site also offers webcasts and virtual events, as well as news and opinion.
Post frequency: Daily

Twitter: @securityblvd
A division of Techstrong Group, Inc, Security Boulevard is part of a network of online security publications that includes Container Journal, Techstrong TV and DevOps.com. The site aims to provide a one-stop-shop for news, education and discussion on topics and issues facing the security and wider IT communities. There are a wide variety of features to be found on its pages; in addition to the more usual news and opinions, there is a security bloggers network and a cartoon and humor section.
Post frequency: Daily
Twitter: @thecyberwire
One of the oldest entries on the list, The Cyberwire aims to keep cyber security specialists in the know and ahead of developing threats by offering content on situational awareness, education and professional development. Their news items, podcasts and briefing papers are all created by industry experts, and the site also features events and a glossary section. You can choose from both free and paid editions.
Post frequency: Often; multiple posts daily
Another platform offering the latest news and articles, Cyware Social differentiates itself by offering easily customizable news, allowing visitors to create custom alerts and feeds for cyber security news across a range of topics and industries. Their feeds are designed to allow easy sharing to all the major social networks. There is also an events section.
Post frequency: Often; multiple posts daily.

Twitter: @DailySwig

A project of PortSwigger Web Security offering news broken down by region. The Daily Swig covers breaking news on cyber attacks and data breaches, cyber security policy and legislation, security vulnerabilities and exploits, and industry news and events.
Post frequency: Often; multiple posts daily.
Twitter: @TheHackersNews
This site boasts one of the largest followings of all the cybernews sites in terms of followers on social media site. It has a monthly readership of 8 million professionals, researchers, technologists, hackers and enthusiasts. The site covers all the latest cyber security news, plus it offers in-depth reports on infosec trends, and hosts conferences as well.
Post frequency: Often; multiple posts daily.

Twitter: @threatpost
With over a million core readers each month, ThreatPost also boasts a wide reach thanks to its award winning content spanning news, features, columns, videos, podcasts, roundtable discussions and Q&As. The large reporting team takes on breaking news, malware and vulnerability analysis, research, trends, and everything in between.
Post frequency: Often; multiple posts daily

This one is a little different: this US government website (note the .gov address) directly issues cyber security alerts. You can sign up to have the alerts delivered directly to your inbox, or receive them via an RSS feed. The site also acts as an archive of past threats. It also has a database of cyber security resources and best practices for government agencies, businesses, and other organizations as well as a monthly bulletin.

Post frequency: whenever the US government reports a threat alert!
Twitter: @VulcanCyber

A 2021 CISOs Choice award winner by leading cyber security protection company Vulcan Cyber, this blog focuses on technical explanations and alerts. Also featured are posts on vulnerability management, vulnerability trends, and a look at products. It often highlights current threats like Log4J or the SIGRed Vulnerability.
Post frequency: irregular, around two a week
Twitter: @ThreatLevel
Wired Magazine's tried and tested format of fast-paced breaking news is turned to cyber security here, with a blog about all things cyber security related. It covers all aspects of cyber security from ransomware to nation state attacks. The site features detailed coverage of ransomware and high profile hacks, magazine-style features, and also an informative podcast section.
Post frequency: Often; multiple posts daily
Twitter: @ZDNet

From ZDNet, a publisher offering 24/7 news and analysis on all things IT, comes the Zero Day blog. Edited by Larry Dignan, the former Editor in Chief of ZDNet, it has a following of close to 500,000 on Twitter. Aimed at IT professionals, the blog takes a look at the latest software and hardware security research, plus reporting on vulnerabilities, threats and latest attacks.
Post frequency: Intermittent.
Twitter: @webz_io

From the cyber team of dark web data provider, Webz.io, The Dark Web Pulse brings news, trends, and insights from the deep and dark web, including millions of sites, forums, marketplaces and alternative social media platforms. Their pulses help cyber analysts and executives gain industry insiders on ransomware, data breaches, emerging vulnerabilities, illicit and extremist activities, cyber fraud and other cyber threats. The Dark Web Pulse also comes out as a bi-weekly newsletter.

Post frequency: Bi-weekly
II The Podcasts
This weekly podcast covering cyber security aims to provoke CISO and business professionals into thinking about cyber security a little differently by looking at cyber security within the broader business environment. The podcast is sponsored by Intel.
Post frequency: Approximately once a week
A five to eight minute headline news podcast, released daily at 6am ET. Each Friday a security practitioner is invited to offer commentary on the week's events in a sister podcast, broadcast at 6.30pm ET.
Post frequency: Daily
Twitter: @HackingHumansCW

Hosts Dave Bittner and Joe Carrigan examine cyber security issues from a psychological perspective by taking a look at the criminal schemes, phishing schemes and engineering scams that are making headlines, and the toll they take on their victims.
Post frequency: Weekly
This fascinating podcast takes a deep dive into the history of cyber security with commentary by hackers, security experts, journalists and politicians. The podcasts are split into seasons, plus specials and interviews.
Post frequency: Regular
Another news bulletin style podcast, the StormCast is a daily 5-10 minute information security threat update. The bulletins are typically released late at night, to be ready for your morning commute, no matter how early you get going.
Post frequency: Daily
Checkpoint Software's offering promises clear talk on cybersecurity's burning topics. They have a steady stream of interviews with leading CISOs including the CISOs of Oxford, Estee Lauder, Deloitte, Levi's, Aston Martin, Siemens and more. The discussions range from Security trends and best practices to cloud, networks, data, employees, habits, and secrets while drifting between personal and professional life.
Post frequency: Approximately once every two weeks
III YouTube Channels
Yotam Gutman of Sentinel One offers a Hebrew language weekly roundup of cyber news from Israel and worldwide.
Part of the CISOSeries of articles, webinars, podcasts and more taking a dedicated look at the relationship between buyers and sellers of cyber security products and services, this YouTube channel features just the video elements, making them easier to search.
With such a comprehensive list to choose from you're now ready to head into 2022 fully up to speed. But did we miss your favorite? Let us know in the comments.