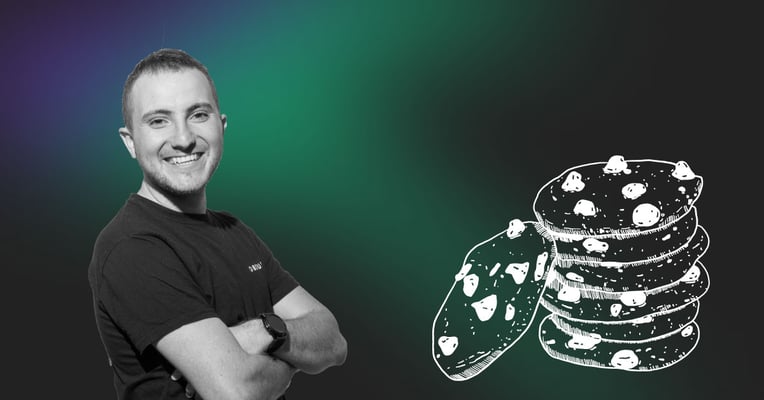 How B2B Marketers Are Preparing For A Cookieless World

Selim Cemal
With Google preparing to end support for third-party cookies in its Chrome browser next year, the B2B Tech Marketing industry is anticipating major changes as marketers learn to adapt their B2B PPC strategies in a Cookieless World. The good news is that even now, as the industry prepares to adiós third-party cookies, interesting alternatives are already in the works.
Why the Third-Party Cookie party is over
The increasingly prolific use of third-party tracking cookies over the past three decades, has led to an erosion of trust by online users. Add to this the use of fingerprinting, a type of online tracking that's arguably more invasive than cookie-based tracking, as it creates a unique profile of users based on their devices, software, add-ons, and even preferences - and it is a whole other ballgame.
According to a study by Pew Research Center, 72% of people feel that almost all of what they do online is tracked by advertisers, technology firms or other companies. A further 81% say that the potential risks they face because of data collection outweigh the benefits. This type of sentiment has been simmering for years, leading to the introduction of a slew of privacy regulations like GDPR, CCPA, a variety of privacy updates from Apple and others.
Inevitably, in 2020 Google announced that it too would follow Firefox and Safari's seven-year lead by removing support for third-party cookies in its own Chrome browser (which accounts for more than 60% of all global web traffic).
Are you looking for Marketing Envy wisdom? Catch up with us, we would love to help!
In a Cookieless World, First-Party Data Will Become the Bread and Butter of B2B Tech Marketing
First-party data is information collected passively by brands directly from their customers with their consent, through their own channels, like their website, email, SMS and loyalty programs. They own this data exclusively and can use it to create more personalized ads, content, and experiences catering to an individual's interests.
"Brands are calibrating their personalization strategies," says Elodie Huston, Senior Content Marketing Strategist at Attentive. "By shifting their focus more to first-party data, brands give consumers the transparency they're looking for while still getting the behavioral insights they need to deliver personalized experiences."
For B2B marketers, shifting the focus from third-party cookies to first-party data also means looking beyond traditional conversion metrics, observing the customer journey and behavior across different touchpoints, and approaching data more holistically.
Measuring Lift to Optimize Everything fr

om

B2B PPC Campaigns to LinkedIn Lead Generation
One way to derive more holistic insights from first-party data is through lift analysis, which measures how an ad or promotional campaign impacts key metrics. Lift is calculated as the increase or decrease in each metric for users who were exposed to a new campaign, as compared to a control group. This allows marketers to see the "lift" in key metrics more clearly, enabling them to make informed decisions about campaign optimization, doubling-down on the effective campaigns and ditching those that aren't.
The idea of measuring lift is to look beyond the short-term impact of your marketing campaigns using obvious metrics like clicks and conversions. Instead marketers can look at which campaigns show the highest lift in important metrics (such as engagement, in-app spend, or conversion frequency) over time. This can have a significant impact on B2B PPC campaigns, B2B lead generation, ROAS as well as revenue.
What else should you know about boosting ROAS?
Enhanced Conversions and Advanced Matching
Another way for marketers to optimize B2B PPC campaigns using their first-party data is to leverage tools like Google's Enhanced Conversion and Meta's Advanced Matching. Both of these use a process known as hashing, which is a method of retaining the data itself while disguising the user's identity. With hashing, audiences are segmented into groups (or cohorts) of hashed IDs, so the platforms can still target and serve ads to specific customers, while preserving their privacy.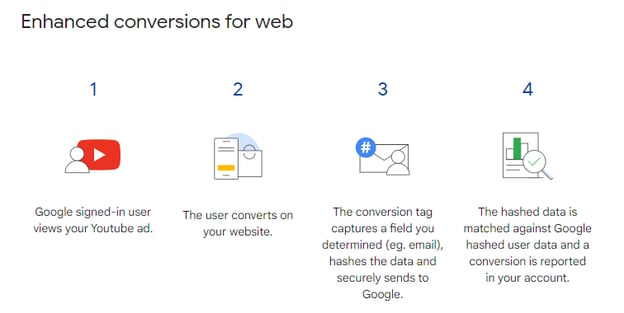 Image via Google
The main benefits of using Enhanced Conversions include:
Better analysis to identify your best-performing ads so you can optimize your ad spend for future campaigns
Leveraging smart bidding (automated bid strategies using machine learning to optimize for conversions in each auction) to help you reach business goals more efficiently
Gaining a better idea of the path your customers take before converting so you can optimize the most impactful buyer touchpoints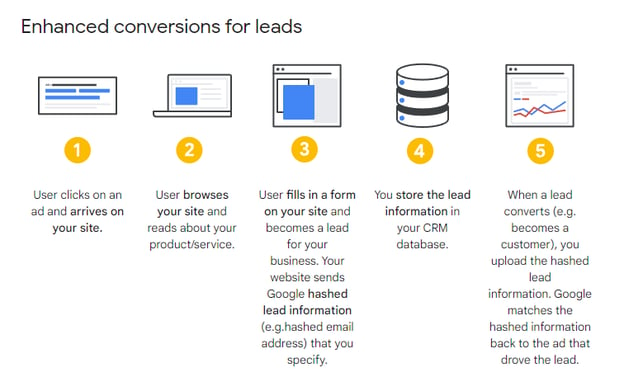 Image via Google
Similarly, in Meta, Advanced Matching can help you optimize ads to reach more people, attribute more conversions, and drive better results by using your hashed customer information along with your pixel events. Meta compares this data with its own hashed information to find the Meta profiles that match, and then creates a Custom Audience from those matches. After your Custom Audience is created, the matched and unmatched hashed information is deleted.
Why FloC Is Out and Topics API Is In
Perhaps the most widely anticipated of Google's alternatives to the third-party cookie was FloC (Federated Learning of Cohorts). This is based on a similar principle to Enhanced Conversions and Advanced Matching in that it groups people into "cohorts", based on their browsing history for the purpose of interest-based advertising.
The solution was seen by many in the industry as problematic, however, due to concerns such as not doing enough to inhibit fingerprinting, and failing to receive explicit user-consent for their data to be collected and shared. So, after extensive testing and industry feedback, Google decided to scrap FLoC in favor of its new-and-improved iteration – Topics API.
Unlike FLoC which lumps users together, Topics API – which is still in the trial stage – will be interest-based. This means ads will be personalized for users based on a selection of about 350 interests (to begin with) or 'topics' associated with the websites they have visited in the last three weeks (think 'fashion', 'fitness', 'cooking' etc.). The user history of the participating browsed websites will be stored on the user's device, and used each week to calculate the user's top 5 topics, with one random topic added for privacy protection. When a user visits a website with Topics API enabled, the API will select up to three topics for the user to use for interest-based advertising.

How Topics API works (Source: Google)
With Topics API, Google is aiming to strike a balance between making interest-based advertising available to brands while having more robust protection for user privacy. Some ad industry leaders, however, are skeptical, positing that while FLoC was already less precise than third-party retargeting or deterministic targeting, Topics is expected to be even less precise.
"The only benefit this has for advertisers is that it is slightly better than nothing," said The Programmatic Advisory founder, Wayne Blodwell in an interview with The Drum. "For some of the large brand advertisers who want to reach broad audiences, this is something, but for the majority this has no value whatsoever as the category is too broad for their targeting criteria or campaign budgets."
Perhaps as Google's Topics API evolves, it will eventually embody a solution that appeases advertisers and consumers alike. Until then, marketers should regularly follow progress being made with the Privacy Sandbox and test relevant technologies in their own websites and campaigns. Staying a step ahead of the ongoing developments will help marketers build a future-proof marketing strategy.
"Don't panic," says Audience Growth Marketing Manager at HubSpot, Pamela Bump. "If your advertising strategies rely on third-party data, start considering alternatives now. As you continue to follow the news related to the phase-out, you should also vet any software or solutions that can help you better transition away from this type of cookie… You could also consider strategies or software that can better help you leverage first-party data."
---
Want to make sure you're prepared for a Cookieless World?

Get in touch with Marketing Envy for B2B tech marketing wisdom and guidance, or to explore how we can help your business with B2B PPC, B2B Lead Generation and LinkedIn Lead Generation.
PS: If you found this helpful, I'd really appreciate it if you can click here to share it on Twitter - besides helping my ego, it's just fun to get notifications 😉