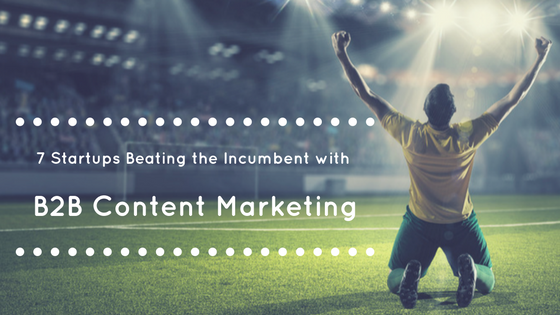 7 Startups Killing it with Great B2B Content Marketing

Amit Lavi
Reading time: 5 mins
This blog was originally posted on Outbrain.com.
It's easy for startups to look at the robust content marketing efforts of large enterprises and think they don't have the resources to succeed with content themselves. The reality is, they don't really have a choice. Content is a fundamental necessity for companies of all sizes looking to make an impact on their industries.
Fortunately, and contrary to popular belief, startups are fully capable of leading their industry in content. It's all about developing the right strategy for your business.
If you want to learn how you can succeed with content as digital resources become increasingly important for building businesses, here are 7 examples of B2B tech startups that are killing their industry with great content.
1. Apixio.com
Apixio offers a cognitive computing platform that brings advanced insights to the healthcare industry with the power of big data. The company was founded in 2009 and has received multiple rounds of funding, but the market for big data analytics solutions is highly competitive.
With big names like IBM Watson Health and Oracle Health Sciences to compete with, Apixio needs to set itself apart in the market. Like so many B2B tech companies, Apixio has rooted its content marketing strategy in a blog. Besides company news, the blog also covers relevant industry content. This content feeds into a set of in-depth resources (webinars, case studies, whitepapers) related to their risk adjustment management niche.
To differentiate itself, Apixio uses a thought leadership approach. This isn't standard content that anyone can create. They deliver their own opinions about the industry. These unique opinions drive traffic to a set of resources that hinge on a casual, conversational tone that lets readers know they won't be consuming another boring piece of content.
The statement at the top of their blog says it all:

2. Aqua Security- aquasec.com
Aqua Security is a virtualized container security company providing full development-to-production lifecycle controls for securing containerized applications, similar to a company like Docker.
Aqua Security's ecosystem includes companies such as Red Hat (with its Atomic Scan offering) and IBM (with the Bluemix Vulnerability Advisor). However, Red Hat's "Red Hat Developers" blog and IBM's "Bluemix Blog" are both heavily product-centric, leaving Aqua Security with an opportunity to win with content.
The Aqua Blog and accompanying eBooks, take a more educational approach to the emerging software containers space. For example, blog posts such as "Dirty COW Vulnerability: Impact on Containers" and "Container Security Best Practices for Conscientious DevOps" give application security professionals valuable insights as containers change the industry.
These blogs support Aqua Security's anchor eBook content (one eBook for DevOps and one eBook for Security professionals) for those looking for more information about containers.
By focusing on more than just its own products, Aqua Security is positioning itself as an an authority for people working with containers.
3. LeadGenius.com
LeadGenius is a software company dedicated to helping businesses identify and connect with their ideal customers. The cost of customer acquisition is often a major issue for companies of all sizes, so software companies like LeadGenius try to help companies scale the acquisition process more effectively.
One of LeadGenius's direct competitors is ZenProspect, a unified lead gen and sales communication platform. ZenProspect doesn't have a prominent blog on their website, and LeadGenius is taking advantage of the content marketing opportunity.
The LeadGenius blog has been very active in recent months. But what sets the content apart from others is the personality injected into various pieces. For example, a few leaders at LeadGenius contribute to a consistent Whiteboard Video series—an educational opportunity for viewers that isn't the monotonous B2B webinar you might expect.
4. RapidAPI.com
RapidAPI is a marketplace that helps people find and connect to the world's top APIs. As software becomes increasingly connected, it's no surprise that the competition for API markets continues to heat up.
Mashape is the incumbent in the space, but if content is the means for making a name in an industry today (assuming your product is everything you say it is), it's only a matter of time before RapidAPI moves ahead.
The Mashape blog is largely dedicated to updating readers on its own Kong open-source API management gateway lately. In contrast, the RapidAPI blog takes a more educational approach to blogging by offering readers insight into how they can connect APIs and put them to practical use.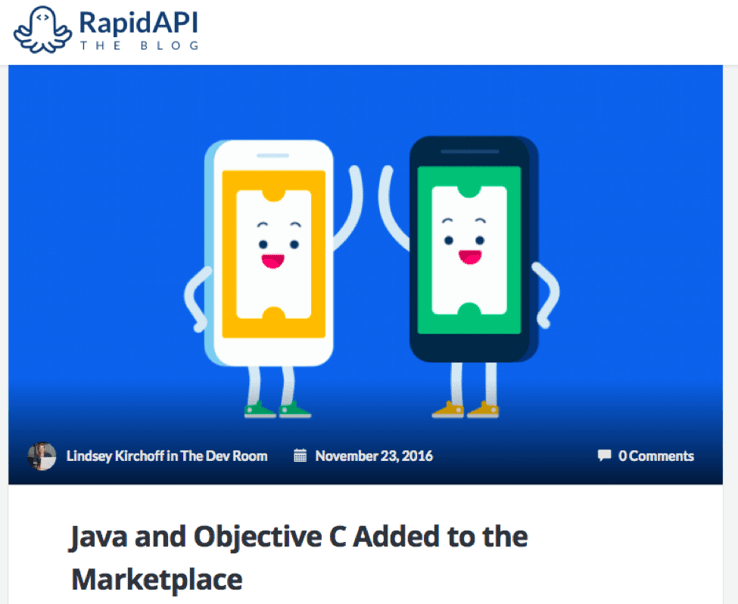 5. Namely.com
Namely is a Human Resources automation company that promises payroll, benefits, and talent management employees will love. However, it's a newer player in a space that has been dominated by Paychex since the early 1970s. Because Paychex already offers a robust set of resources for communications professionals, it's critical that Namely delivers differentiated content to stand out.
In addition to educational blogs and whitepapers, Namely has a separate subset of its website called HR News. This section is dedicated entirely to becoming the expert source for compliance and legislative updates on a national scale. The need for educational content is almost a given for a solid content marketing strategy, but including a detailed news section can help make Namely become a strong, thought-leading HR brand.
6. LeadPages.net
LeadPages is a landing page builder that helps businesses collect leads and sales on the web, in emails, via text messaging, and on social media.
LeadPages has multiple landing page builder competitors, including Velocity Page, OptimizePress, OptIn Ninja, and more. While each of these competitors has a blog that follows the sort of educational themes you might expect, LeadPages sets itself apart from the crowd.
In addition to in-depth blog content, LeadPages broadcasts its Conversion Cast podcast. The podcast supplements educational blog content with interview-based content that gives listeners real-world use cases for growing their leads.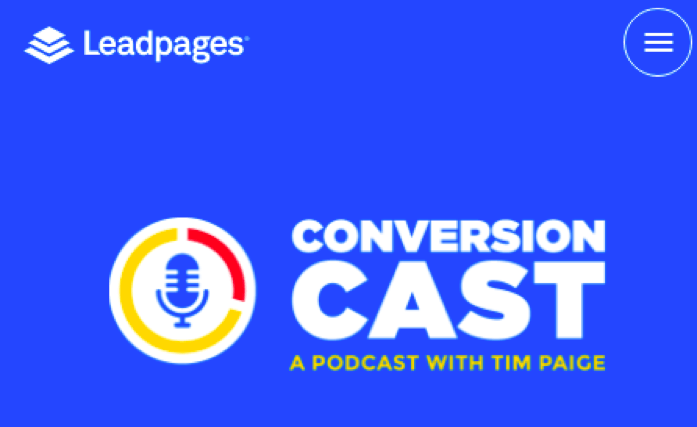 7. Highfive.com
Highfive is a video conferencing solution that promises a frictionless experience for employees and a streamlined implementation process for IT teams. But in a world where business communication is consistently trending toward consumerization, it's difficult to stake a claim in the space.
There are many competitors in the video conferencing industry, but GoToMeeting.com is one of the most dominant. However, when you look at the content each company is putting out, it's clear that Highfive is the leader.
GoToMeeting offers some helpful resources, but their offerings are more product-centric than educational. Highfive, on the other hand, has a consistently updated blog with educational content as well as a deep library of well-designed infographics and educational webinars and eBooks.
Conclusion
The 7 companies mentioned in this post aren't industry giants—they are startups that are finding their way in the business world just like you. It's easy to dismiss content marketing as something only major brands can succeed with, but just because you don't have massive marketing resources doesn't mean you can't enjoy the same level of content success.
What B2B startups do you think are crushing their competition with content?