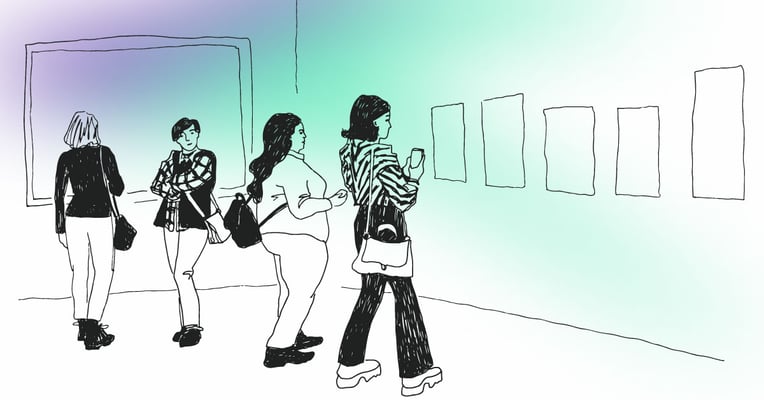 Save the Date(s): Cyber Security's Hottest Events in 2023

Niamh Heaney
The only thing more secure than your cyber security will be your calendar after getting stuck into these events! From conferences to workshops, we've got you covered with the most informative, engaging, and downright fun events that you won't want to miss. So, grab a cup of coffee, fire up your laptop, and get ready to hack your way to success in 2023!
Cyber Security Events You Don't Want To Miss In 2023
Want the TL;DR? Click the links below!
1. SANS Cyber Threat Intelligence Summit
2. Cybertech Global TLV
3. AAAI Conference on Artificial Intelligence
4. Cloud and Cyber Security Expo
5. CYBERUK
6. IoTBDS
7. KB4CON Virtual Summit
8. RSA Conference
9. ICS Security Summit
10. AusCERT
11. Secure360
12. Black Hat Asia
13. ISACA Conference North America
14. CloudFest2023 USA
15. ISDEF
16. Cyber Security for Critical Assets Summit
17. Black Hat USA
18. DEFCON 31
19. Global Security Exchange (GSX)
20. The Future of Cyber Security Manchester
21. Hack in Paris
22. The Future of Cyber Security Europe
23. CyberWeek


January 30th - 31st 2023 / Hyatt Regency Orlando
Join with thousands of cybersecurity professionals worldwide to gain new perspectives and expand your knowledge base. This free event kicks off with two days of technical talks designed to up your security game, followed by a series of interactive panels, workshops, and networking events.
January 30th - 1st February, 2023 / Tel Aviv, Israel

Bringing together cyber experts from across industry, government, and academia, the Cybertech conference spans three days and a wide range of topics, including AI and machine learning, cloud, intelligence, FinSec, critical infrastructure, ransomware, blockchain, quantum computing and so much more.
Speakers include Israel's President, Isaac Herzog and General (ret.) David Petraeus, in addition to government ministers, academics and industry insiders, making it one not to miss.
February 7th - 14th 2023 / Washington DC, USA

Now in its 37th year, the AAAI Conference, sponsored by the Association for the Advancement of Artificial Intelligence, is the place to be for the latest thinking on all things AI. Bringing together AI researchers, practitioners, scientists, and engineers, the conference features speakers, tutorials, workshops and exhibitions, all selected according to the highest standards.

With esteemed speakers such as Joshua B. Tenenbaum from MIT, Yevgeniya (Jane) Pinelis, Chief of AI Assurance of the CDAO and Michael Salpukas from Raytheon Technologies, we're really looking forward to this one!
Download The Cyber Security PPC Benchmarks Report Here
March 8-9, 2023 / London, England

The Cloud & Cyber Security Expo brings business leaders together with security innovators and technologists to help them protect their assets and networks from attack.
This year's expo features an interactive hub for workshops, drop-in clinics, hackathons and roundtables and an opening of the event by Mayor of London, Sadiq Kahn on the mainstage. And, not only that, the Keynote speaker has just been announced as Google's Lead Security Engineer, Owen John . Follow the conference on Twitter at @CSE_Global.
April 19th - 20th/ Belfast, Northern Ireland / Virtual

The flagship event of the UK government's National Cyber Security Centre, CYBERUK positions itself as the authoritative event for the UK's cyber security community. This year's theme builds upon the UK's National Cyber Strategy, uniting government, industry, and academia to discuss the challenges ahead as well as focusing on 'securing an open and resilient digital future'.

On the program are plenary sessions, live networking opportunities, lightning talks and interactive workshops, with much of the event's activities being streamed online for remote attendees.
April 21st - 23rd / Prague, Czech Republic

The 8th International Conference on Internet of Things, Big Data and Security. Themes include: Big data research, emerging services and analytics, the Internet of Things, and security, privacy and trust. Keynote speakers include Tamas Kiss of University of Westminster, Sjdjan Capkun of ETH Zurich and Serge Fdida of Sorbonne Université.
April 24th - 26th / Orlando, Florida

Hosted by security firm KnowBe4, this conference is tailor-made for security professionals who use KnowBe4's products and want to expand their security expertise. Speakers include co-founder of Crowdstrike, Dmitri Alperovitch, and Head of Cybersecurity at Morgan Stanley Wealth Management, Rachel Wilson.
April 24 - 27 / San Francisco, California

Join conversations with fellow professionals, discover innovative solutions in the sandboxes, watch start-ups go head-to-head in the 18th annual RSAC Innovation Sandbox Contest, and discover emerging companies in the RSAC Early Stage Expo over four days in April. Delegates can choose from a range of passes priced between $50 and $1,995, depending upon how much of the event they wish to access.
April 30th - May 8th / Orlando, Florida / Virtual

This free event leads with a two-day virtual summit with a focus on actionable ideas, methods, and techniques for safeguarding critical infrastructures. On the program are sessions on case studies and success stories, live attack demonstrations and how to stop them, understanding what an attack against your organization will look like, and mitigation techniques.

After the summit, attendees can stay on to take part in a hands-on, immersive SANS ICS course, taught by experienced practitioners. Courses take place both online and in person in Florida.
May 9th - 12th, 2023 / Gold Coast, Australia / Virtual

The oldest cybersecurity conference in Australia enters its 22nd year in great style. This year's theme is 'Back to the Future,' as conference organizers demonstrate the value and importance of looking back to help guide our way forward and enable you to take a fresh look at the knowledge and skills you need to engage in cutting-edge cyber security practices. More than 50 speakers from Australia and New Zealand will take to the stage over 4 action packed days, and for those who can't make it down under, the conference will be live-streamed. You can follow the conference on Twitter at @AusCERT.
May 9th - 10th, 2023 / Prior Lake, Minnesota

Secure360's focus is security and risk management education, and the theme this year is: Building A Stronger Risk Community. Key topics include governance, risk and compliance, information security, physical security, business continuity management, and professional development.

In addition to a range of speakers and break-out sessions, conference goers can hear keynote speeches from Crystal Washington, and cybersecurity strategist, John Sileo.
May 9th - 12th, 2022 / Virtual

The Black Hat events sprang from a single conference in 1997 to become a highly respected global series of conferences held annually. Conference goers at all career levels can access Black Hat's signature Briefings and Trainings, held over multiple days.

The Briefings content covers topics such as data forensics and incident response, malware, applied security and cloud and platform security.
May 10th - 12th 2023 / New Orleans, LA / Virtual

If you're looking to enhance your knowledge and skills in the field of IT audit, governance, risk management, and cybersecurity, then the ISACA Conference NA is the place to be. This conference offers a unique opportunity to learn from leading experts, network with like-minded professionals, and stay up-to-date with the latest industry trends and technologies. With a range of informative sessions, keynotes, and workshops, you'll leave the conference feeling inspired, informed, and equipped to tackle the toughest challenges in your field.
May 31st - June 3rd / Austin, Texas

CloudFest is the world's largest internet infrastructure event that brings together the brightest minds in technology. This year, CloudFest USA is being held in Austin, Texas, a hotbed of innovation, to enable North American hosting and cloud service providers to attend without traveling to Germany. Additionally, as the team behind CloudFest also runs NamesCon Global, the world's largest domain name industry event, attendees of CloudFest USA will have access to the full NamesCon Global program. This unique opportunity allows professionals from the internet infrastructure and cloud service providers world to connect with domain name industry professionals, including registries, registrars, brokers, entrepreneurs, and startups.

More than 250 speakers have been packed into the three days, and with previous years having seen the likes of Edward Snowden, James Gosling and Eugene Kaspersky gracing the stage (the first keynote speaker has been announced as none other than Jimmy Wales, co founder of Wikipedia), they are sure to be worth watching.
June 27th - 29th / Tel Aviv, Israel

The twelfth annual ISDEF is set to be the largest defense, homeland security and cyber exhibition ever held in Israel. Bringing together 10,000 attendees, 300 companies and 50 official delegations, the event offers a unique opportunity to connect with key industry players from around the world. Topics include defense, HLS, mega-event protection, cybersecurity, intelligence, and counter-terrorism.

Follow ISDEF on LinkedIn for the latest updates
July 11th, 2023 / Virtual

This marathon event unites the globe for 24 hours, chasing the sun starting with speakers from the Asia-Pacific region, through to the Middle East and North Africa before passing the baton to Europe, then on to Latin America and finishing up in North America. The format allows industry professionals from around the globe to meet and connect with their peers, regardless of geographical boundaries.

This year's event has a focus on cyber resilience, drawing on the expertise of cyber security leaders from the oil & gas, energy, water, mining, and chemical industries, allowing attendees to hone in on their specialist areas of interest.

Speakers include Yosi Shavit, Head of ICS Cybersecurity in the Ministry of Environment Protection, André Gomes, CISO at Bamin and Aaron McKweon, CISO at Vector Limited.
August 5th - 10th, 2023 / Las Vegas, Nevada

Black Hat's Briefings and Trainings continue, both in person and online this time in the Pacific time zone. Now in its 26th year, it promosies to be 4 days packed full of specialized cybersecurity training across all skill levels. Program details will be released later in the year. Black Hat can be followed on Twitter at @BlackHatEvents.
August 10th - 13th, 2023 / Las Vegas, Nevada / Discord

DefCon31 is the largest and most prominent annual hacker convention in the world, making it an exciting and unparalleled opportunity for anyone interested in cybersecurity, hacking, and technology. Attendees will have the chance to learn from some of the most skilled and innovative hackers in the industry, attend workshops, and participate in various hacking challenges and competitions.

DefCon is renowned for its dynamic and inclusive community, which encourages attendees to collaborate, share knowledge, and build lasting relationships. With its reputation for attracting top-notch speakers and a diverse audience, DefCon31 promises to be an unforgettable experience that will inspire and motivate attendees to push the boundaries of their knowledge and skills in cybersecurity.
September 11th - 13th 2023 / Dallas, Texas / Virtual

As the world's largest membership organization for security management professionals, ASIS International brings together the brightest minds and latest technologies to keep you informed and connected. At GSX, you can access top-notch education on the most pressing security issues, discover innovative products and services, and build professional networks to strengthen your capabilities.
Join security leaders and practitioners from every industry and sector to cultivate the skills, knowledge, and confidence needed to eliminate emerging threats and navigate risks with ease. Speakers and more details will be released later in the year.
20. The Future of Cyber Security Manchester
September 19th 2023 / Manchester

Businesses and government organizations face significant risks from ransomware attacks that can potentially lock up critical data and cripple entire networks. At The Future of Cyber Security Conference, you will delve into this alarming threat, including ransomware-as-a-service and multi-extortion attacks. The sessions will offer insights on how to protect your business and prevent ransomware from inflicting lasting damage. Join and learn practical strategies to safeguard your data and networks.
September 25th - 29th / Paris, France

This steadily growing event has now reached its eleventh year and continues to bring security experts together to get a hands-on feel for hacking and how to counter it. The program covers high end IT security, industrial espionage, penetration testing, physical security, forensics, malware analysis techniques and countermeasures. Follow along on Twitter at @hackinparis, and don't forget to use the hashtag #HIP23.
22.
The Future of Cyber Security Europe
November 7th 2023 / London
This conference offers a distinctive program that empowers attendees to select the topics that pique their interest. Moreover, participants will have ample opportunities to network with CSOs and other senior board members. The sessions will provide high-level intelligence briefings on the latest cybersecurity technologies and trends, as well as an examination of the impact of regulations and government strategies. The sessions are designed to offer practical insights to inspire delegates to strengthen their organization's cybersecurity strategies.
November 27th 2023 / Israel

This free event brings together exciting cyber security startups and enterprises from around the world with workshops, lectures, networking and more. With a packed program of keynote speeches, panel discussions, workshops, and networking events, Cyber Week Israel offers a unique opportunity to stay ahead of the curve and explore the latest trends and innovations in the world of cybersecurity. The program will be released later in the year so keep your eyes peeled!
Here's to a full year of making new connections, learning (whether virtually or in person), and enriching your cybersecurity awareness this year.
Get in touch with Envy for cyber security marketing wisdom and guidance.