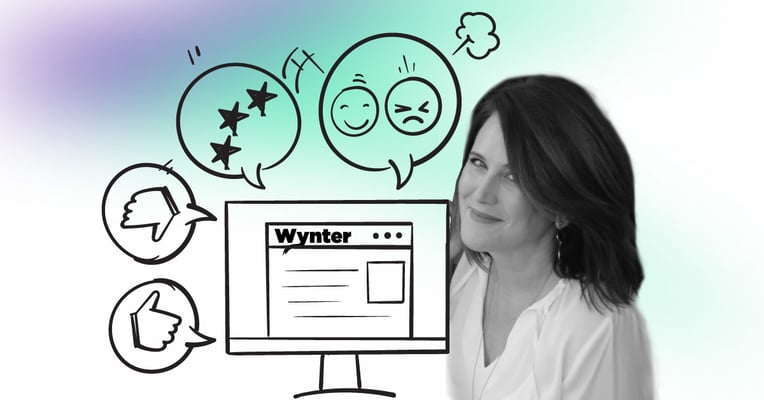 CMOs Should be Checking Out Wynter for B2B Message Testing

Billy Cina
If I were a SaaS Product Manager, I would be very busy trying to reverse engineer Wynter. As a CMO, I'd be grabbing the credit card and a copy of the company messaging to test.
I try out many many MarTech tools all the time, and I'd consider myself a harsh judge/user, but the Wynter team have nailed it.
If you haven't tried it out yet, you're missing out on significant market validation (or insights) for your messaging.
Here's why.

Caveat: I am not connected to Peep Laya or Wynter in any way, shape or form.

• Their Website: Simple to walk through, understand the services, compelling messaging!
• Onboarding process: Smooth, painless, even when I decided to bite the bullet and take the dreaded demo, it was short, effective and professional.
• Deliver on promise: Results promised within 48 - 72 hours came in within 36 hours.
• Testing results were exactly what we needed: We weren't sure we were headed in the right direction with our messaging. It was a big deal to us and Wynter gave us validation and peace of mind.
Using Wynter for Envy's rebrand

March 2022, it was way back when bubbly unicorns were born every Monday and Thursday, VCs were investing like a drunk during happy hour and over-inflated companies were being listed on the NASDAQ at the blink of an eye. Marketing Envy embarked on its rebranding mission.

Talk on the B2B tech marketing street was all about growth and scaling fast. Bringing on users as quickly as possible to show traction, at almost any cost. Speed of scaling was the CMO's migraine. Nothing we could do on the marketing front would be quick enough to quench the thirst for scaling. Fast.

So working with Eden Bidani on our copy, her lightbulb headline for our rebrand clicked with us immediately:

I don't want to scale, Said by no one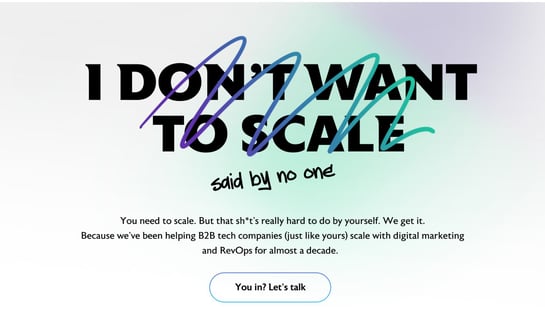 Add to that the fresh design created by David Berkovish and life was good.
Yes. We knew we hit the jackpot. You know you know when it's right. And we knew this was it.

But that was way back when, in March. You know, 10 months ago.

The short rebranding project that was supposed to be done and dusted by August got delayed and by the time we were (almost) ready to launch in October 2022, talk on the street was starkly different.

Scaling? Nobody was talking about scaling.

Two topics dominated the minds for our fellow CMOs and their bosses:
1. Growth through actual user-generated revenue. Crazy concept, but true.
2. Preparing for the worst to come in 2023.

It was then that another thing dawned on us. Our messaging has to be versatile enough to change frequently and still be very 'enviable'. The market will continue to change at Usain Bolt speed and we need to keep up.

We nervously wrote copy about how dismal 2023 was going to be and debated endlessly how dark our humour could dip. Marketers are supposed to be cheerleaders, not staring doom and gloom in the face. But we're Envy. We can do anything.

1. Will people get it?
2. Is it strong enough?
3. Shorter version or longer version?
4. Would it increase our on site conversion rate?

So we turned to Wynter to test our messaging and were blown away by the product.
Onboarding

Somebody at Wynter really thought about the stressed B2B marketer who's looking for peace of mind about their messaging.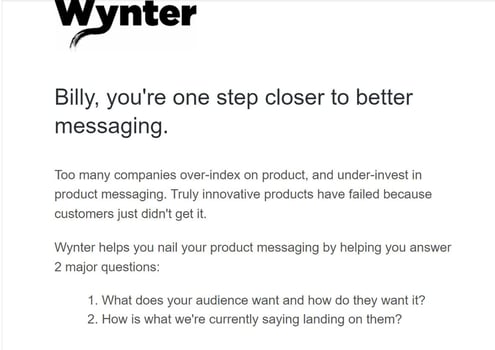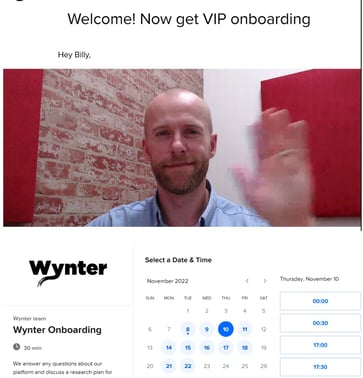 The process was ridiculously smooth and painless. It was also short. I'd set aside a couple of hours thinking that I would have to learn the platform, answer an onboarding questionnaire longer than the census and do my usual of stopping half way through, air punching and swearing out of frustration and sitting back down.

What was I to do with the 1 hour and 45 mins spare?
The Demo

I detest demos. The oversell kills me and the polished pitches make me want to barf. But at some point I was in two minds about which option we should go for and as it was not a cheap test, decided to get a demo and ask which use case was better for us.

In entered, Dustin Drees. You can tell when someone is giving a demo cos they love their job and product as opposed to when they're doing the job they're paid to do. Dustin was certainly the former, pure gold. Professional, at ease and wanting to ensure we knew what we were buying.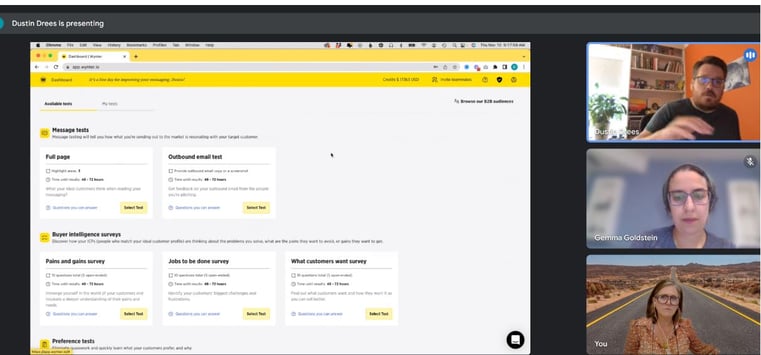 The Test

This service is not cheap. Tests start at around $500 and go up into thousands of dollars. But the alternative is so much more expensive.

I've witnessed numerous messaging/brand launches that clearly went ahead without any testing outside of the closed immediate company circle and flopped, big time. They then turn to Envy to help rectify this but several months (and longer) go by between launch and the fix. Many simply don't fix it, as they don't know how.

What's the opportunity cost of a target audience that doesn't understand what you do?
Or how your product differs from your competitors'?
Or of a website that doesn't really convert?

The Envy rebrand was too important for us to get wrong. As I mentioned above, we had many questions that were unsolved for us and wanted the confidence to move forward with the much awaited rebrand. So we tested these two options.
Option 1 - Short, concise and to the point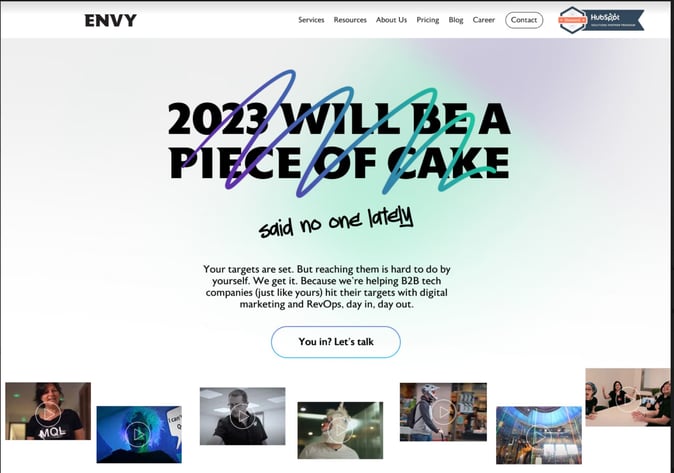 Option 2 - Longer with more explanation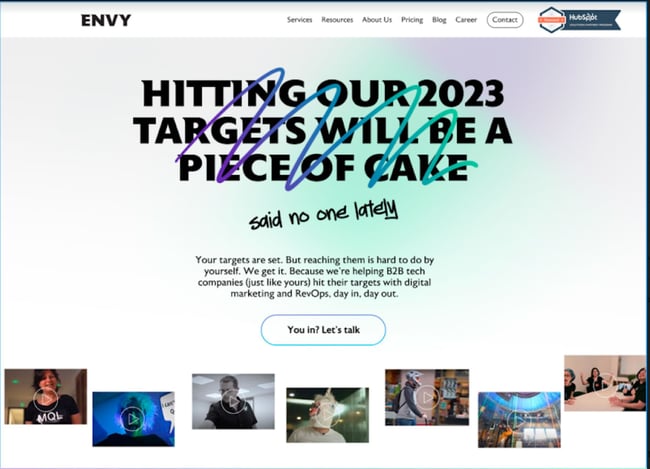 We decided that 15 panelists from our target audience were sufficient. And waited.
Within 36 hours we received the confirmation we wanted. Even though the preference result for both options were negligible, 56% in favour of Short, 44% in favour of long, the comments were golden. Precisely what we needed to read to move ahead with the shorter version.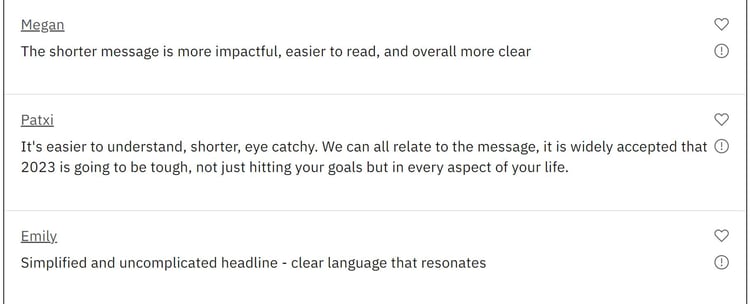 Well done if you've made it this far. And kudos to the Wynter team for creating a tool that really does what it sets out to do: Give us battle weary marketers some unbiased, agenda-free, hard earned insights and feedback on our B2B messaging.