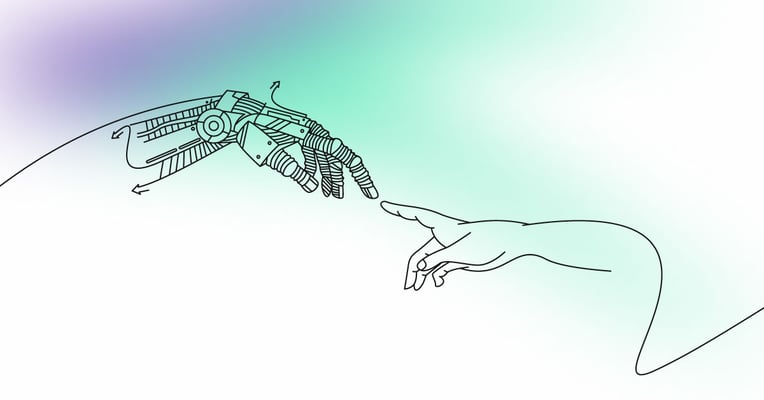 20 Hot AI Blogs You Should Follow, Religiously

Chris Buckley
Artificial Intelligence (AI), which was a relatively unknown concept a few decades ago, is all the rage. And while the advantages of AI vs. the disadvantages of AI debate rages on, that is not the purpose of this blog. With AI on everyone's mind, multiple industries, including B2B marketing, are lining up to see how to take advantage of the wonders of AI. And a great way to do this is by following the best AI blogs.
Through AI blogs, you can get a real insight into the latest developments in the field, and how they have the potential to impact you, as well as understanding how you can stay up to date in an evolving landscape.
But distinguishing the good AI blogs from the bad can be a real challenge. Thankfully, we've done the work so you don't have to. In this post, we'll cover the 20 best AI blogs B2B marketers need to know.
OpenAI is a non-profit research group of industry experts. It aims to not only bring the power of AI to the masses, but also to make it accessible. Their blog, which is primarily educational in nature, is a valuable resource for anyone interested in the future of AI.
On average, they have roughly 3-4 new blogs per month with the topics covered in the blog being highly varied. For example, they have blogs on everything from powering next generation applications to deploying language models.


This AI blog, authored by Jason Brownlee is aimed at new developers getting started in the AI field. As a ML developer, Jason aims to provide personal education to the reader, with tips and tools he has picked up during the AI journey.
If you are interested in furthering your AI knowledge, this is one of the best AI blogs out there with topics ranging from Deep Learning to Data Preparation, Python and more.
There is even a Get Started section if you are relatively new to the world of AI with step-by-step guides on Applied Machine Learning. It is also one of the most frequently updated AI blogs in the list with several new blog posts per week on average.
Do you have an inbound marketing challenge you need help with?


As anyone who is interested in AI knows, Amazon & AI go hand-in-hand. We mean, it really makes a lot of sense… Just think of the last time you made a purchase on Amazon and ended up buying 10 more things due to their recommendations.
The blog itself is home to guides on how ML & AI can be used in conjunction with Amazon, making it a must read for AWS enthusiasts. It covers multiple parts of the Amazon landscape as well, from Amazon AppFlow to Amazon SageMaker. It is also updated daily, with the information therefore being very timely.
This blog, from the prestigious US university UC Berkeley, focuses primarily on 3 distinct aspects of AI - Machine learning, computer vision, and natural language processing. It is a very worthwhile read for those interested in practical applications of AI in real life. And although not updated as frequently as some of the other blogs on the list, the value contained within the blogs makes it worthy for inclusion in this list.
The authors are generally PHD level students in UC Berkeley, with the depth of research, knowledge and ideas coming across clearly in each blog.
This AI blog is aimed primarily at developers and providers in-depth articles and university research pieces. The primary topics covered in the blog are ML, deep learning and data science research.
The blog is updated on a near daily basis, with the topics being highly topical. In addition, there is also a regularly updated interview section on the website featuring Q&A's with industry experts from CISOs to university professors. They also offer a range of free AI related courses, such as machine learning for Python, AI for beginners and more.
Wisdom Works AI blogs aim to provide readers with an in-depth knowledge of AI. While Wisdom Works itself provides a variety of tech and consulting services, the blog is highly beneficial to those looking to further their AI knowledge. Specifically, the blog focuses on how disruptive technologies can be utilized to provide a distinctive, sustainable competitive edge over your competition.
There are interesting and thought-provoking pieces such as are we heading for an AI winter, to more business focused AI blogs such as is your organization taking full advantage of cloud adoption and digital transformation. And while the blog is not updated as frequently as others we list (on average 1 blog per month), it is nonetheless a valuable resource if you are looking to further your AI knowledge.
Google is a relatively new internet start-up… You may have heard of them? Jokes aside, besides being one of the most successful companies in the world, Google also runs a great AI blog run by the Google AI research team. They have blogs and other resources from a variety of AI related topics such as:
AL for social good
AutoML
Data science
Machine Intelligence
Trust us - Once you have an interest in AI, you will find something of interest in their blogs! In terms of frequency, the blog is often updated multiple times per day. One drawback of this blog is the layout, which isn't the most user friendly, but the content quality more than makes up for it.
This is undoubtedly one of our favorite AI blogs out there. Run by Massachusetts Institute of Technology (MIT), the blog is primarily educational in nature. It focuses on the latest news and trends in AI, as well as the practical application of AI in everyday life.
The specific topics within these larger topics are very diverse, however, and include titles relevant to both businesses and wider-society in general. The blog is updated several times per month on average, with the vast majority of posts being from MIT researchers.
TopBots is geared towards the use of artificial intelligence in bots but also offers insight and news on artificial intelligence in general. This magazine-style blog, which is updated weekly, has a business slant but offers news and views on AI and Bot technology too.
TopBots AI blog has many useful sections, from applied AI to technical guides, meaning there is something for everyone. Specific topics are highly varied, from 10 leading language models for NLP, to marketing-related topics such as state-of-the-art approaches to attribution.
Towards AI is an open platform for creating and sharing educational content on AI. It is very much community run and the diversity of blog topics reflects that fact, although many are linked specifically to ML.
The blog, which is frequently updated, has pieces on everything from creating ML algorithms from scratch in Python to tackling the most common challenges ML presents. There is also a range of eBooks and other editorials on offer, which go into more detail than a typical blog post is able to.
Analytics Vidhya serves as the ultimate hub for data scientists. Experts in the field generously share deep insights through comprehensive articles, offering tips and guides catering to both beginners and seasoned professionals.
12. Science Daily

As its name implies, Science Daily is your go-to for the freshest breakthroughs, spanning diverse fields like psychology to global warming. When it comes to AI, they've got you covered. And if academic research piques your interest, this blog is a must-visit destination.
13. Great Learning

Seeking a hub for knowledge and upskilling? Look no further than Great Learning. Discover a wealth of free tutorials and courses, tailored for beginners. From cloud basics to Python for ML, delve into R introduction and data visualization.

14. DeepMind Blog

Craving a blend of development expertise and AI updates? The DeepMind blog serves up the freshest insights from the AI realm. Dive into authors' research updates, where they unravel challenges, unveil solutions, and provide comprehensive explanations.
15. There's An AI For That

Ok, so technically, this is not a blog but will help you keep up to date on everything AI. Discover the ultimate resource for AI tools: "There's An AI For That." As the largest AI aggregator globally, it offers a staggering 300,000+ tools for 899+ tasks.
Effortlessly find what you need through its user-friendly search engine or category browsing. With regular updates, you'll stay at the forefront of AI innovations. Don't miss out on elevating work efficiency with advanced AI tech!
16. The Gradient

Curated by Tesla's Director of AI, Andrej Karpathy, The Gradient offers insightful essays and analyses covering AI research, industry shifts, and ethical deliberations.
17. KDnugget

KDnuggets stands as a well-known hub for data science and AI updates, delivering insights, tutorials, and expert interviews.
18. AI Time Journal

AI Time Journal spotlights interviews, articles, and wisdom from AI thought pioneers, creating a platform for experts to generously share their insights.
19. Becoming Human
Becoming Human delves into the human facets of AI, examining its influence on society, culture, and philosophy.
20. Business of AI
Business of AI delves into the business implications and strategies surrounding AI integration, spotlighting tangible use cases and triumphant narratives.
And there you have it - 20 of the best AI blogs online (Just make sure not to spend all evening reading… We've been there). In addition to being a great way to teach others about AI as a subject, blogs are a great way to introduce a concept or idea in a simple, helpful format that your audience will appreciate. The AI blogs we have listed above are just the tip of the iceberg, we could have extended the list to 100+ but for your sake (and ours), we left it at 20.
Why blogging?
Now, you may be asking, why do such companies and institutes engage in blogging? To answer this question, we need to understand the role blogging plays in marketing. Content marketing, which has become incredibly important to your inbound marketing strategy, helps marketers to maximize organic viability and lead generation - Aka the holy grail of marketing.
It does so by bringing people to your website by providing relevant, helpful content at different stages of the marketing funnel, that is aligned with what they are searching for. AI companies and institutes have understandably sought to utilize content marketing in their website strategy to increase the number of visitors to their sites. In essence, the website gets more visitors, and the reader gets access to valuable content aligned with their search - A win-win for all sides.
So, if you're a tech company looking for inbound marketing services (of which blogging is a part), why not book a meeting with us to see what we can do for you?