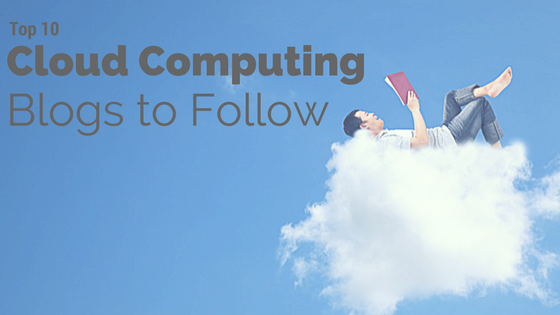 Top 8 Cloud Computing Blogs to Follow
Maayan Sella
Reading time: 3 fun minutes
Hyper Converged infrastructure, lift-and-shift tools for migration, industry-specific SaaS. Those are just three of the 10 key cloud computing developments the research firm Forrester expects to take the spotlight in 2017.
The Forrester list alone is a lot to consider, but keep in mind there are dozens upon dozens – hundreds, really – of sources offering expertise and advice on cloud computing. Pardon the pun, but it's just simply too much to compute. If you want to stay on top of the latest and most relevant news and discussions about cloud computing but don't know where to begin, don't worry. We've got your back, and your cloud. Here are, in alphabetical order, what we think are 10 of the top cloud computing blogs.
These writers – including several podcasters – have their eyes and ears open to what's driving cloud computing. They do a grand job of explaining, with clarity and insightful nuance, what you need to know.
Arguably the most famous cloud computing blog, All Things Distributed flows from the keyboard of Amazon CTO Werner Vogels. If you're using the cloud, odds are you're using Amazon Web Services (AWS) for some or several services, so this blog is a must-read. Vogels writes detail-oriented and accessible posts about how to make the most of Amazon for analytics, business development and startup resources.
2. Dana Gardner's Briefings DirectBlog
A veteran cloud computing and IT analyst, Dana Gardner not only frames the discussion from his point of view, but he also includes the voices of other industry experts, and not just in writing but in podcasts. For an in-depth analysis on cloud trends, strategies and products, Gardner is the one to read and hear.
Instead of written posts, The Cloudcast offers only audio blogs, but you will be enlightened after listening. The experts behind the podcasts, Brian Gracely, a technology expert at RedHat Openshift, and Aaron Delp, the director of solutions at NetApp SolidFire, hold forth on a wide array of topics, including DevOps from the enterprise level, security in the cloud and, more specifically, "Putting Docker in Your Brain."
A must-read on InfoWorld, David Linthicum's Cloud Computing blog is devoted solely to cloud computing. Linthicum's reputation as an industry thought leader precedes him, and his blog illustrates why he's able to connect with mass audiences. Consider offerings such as "How much cloud is too much cloud?" and "Beware the dumb and dangerous ideas creeping into the cloud."
5. Cloudscaling
A self-described cloud pioneer, Randy Bias' thoughts on the cloud have appeared in The Economist and The Wall Street Journal, but he makes his mark with his blog Cloudscaling. Bias uses clear and interesting words to pass on his cloud knowledge. For example, he recently spelled out the latest shift in cloud computing by looking at a popular application meme, "pets versus cattle."
6. CloudTweaks
This is a one-stop shopping blog. CloudTweaks reveals all about the cloud through posts, infographics, statistics and even comics. If you want to know more about cloud compliance, the best cloud apps and business data analytics tips, in thoughtful and sometimes funny content, head here.
7. Mesosphere
Here's a blog from another startup that is worth checking out: Mesosphere. This San Francisco based company offers enterprise software products based on the open-source Mesos project. The blog targets the container industry and is full of containerization concepts and tips, including updates on the company's open-source DC/OS project. Containers are the hottest technology and Mesosphere will be one to watch as it helps businesses take advantage of cloud technology.
8. Rick's Cloud
Not as famous as Amazon's Vogels or InfoWorld's Linthicum, Rick Blaisdell is nonetheless a respected expert, and many industry sources, including IDG, say Rick's Cloud is a blog that can't be missed. His musings cover, in relatable language, topics such as cloud computing integration, enterprise architecture and AI in the cloud. His audience includes executives and technologists, a sure sign he has invaluable insight that appeals to all.
Well, those are just 8 blogs from well-known, respected, and up and coming voices. There are many more cloud computing blogs worth reading. To learn how to get the most out of your content, talk to us today!