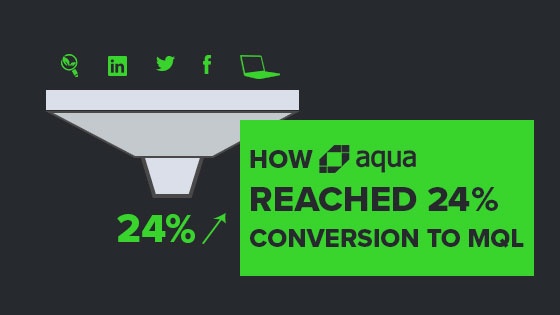 Case Study: How Aqua Security Reached 24% Conversion to MQL
Maayan Sella
Reading time: the best 7 mins you'll spend this week!
Funded startup, you know the drill: Go create a winning marketing strategy with a limited budget, tight competition and highly technical audience. Here's how solid content, ongoing market education and PPC amplification skyrocketed Aqua Security's contacts to MQLs conversion rate and social media following:
The Challenges: Market Education and Lead Generation
When Aqua launched its security platform back in 2016, the competition was fierce from day one. On the one hand, early technology adopters understood that virtual containers are the next big thing in application development, and going to change the entire IT technology stack that we know today. On the other hand, the need to secure this new revolutionizing technology was still not obvious to many.
Establishing presence as a serious contender in virtualized container cybersecurity required investment in brand awareness and market education in an industry that was still in its infancy.
While many startups are often tempted by the quick wins, Aqua's team was clearly looking for a long term marketing strategy and goals from the outset, focusing on market education and setting up well thought-out lead nurturing campaigns.
The Winning Strategy


Our strategy included:
Inbound Marketing to educate and build awareness

PPC to amplify content marketing efforts
HubSpot platform to nurture contacts into MQLs
Retracing the steps to Aqua's Inbound Marketing success


Step 1: Create High-Quality, Targeted Messaging
Aqua didn't skip any steps when building their content strategy, and creating 'pitch-perfect' messaging was an essential first step. After a few workshop sessions, tons of research and several rounds of copywriting we reached succinct messaging that defined clearly:
What is Aqua Security

What they offer

Who are their buyers

Key differentiators
The initial investment in messaging paid off, as it still provides the foundation of Aqua's inbound marketing efforts.
Step 2: SEO review
Researching and mapping out keywords

Analyzing competitors' online presence

Choosing 10 main keywords to focus on
As expected with new industries, Aqua's most relevant keywords had very low search volume, and the ones that did have volume were not yet relevant. Their strategy had to focus on long tale and narrow terms that would gain volume as the ecosystem grows, and by then Aqua would be everywhere. The HubSpot SEO optimization and keyword tools ensured all messaging was aligned with the strategy. As the ecosystem grew, so did Aqua's organic traffic.
Step 3: Content and social media strategy
Establishing a social presence by:
Continuous analysis of ecosystem content and social media activities

Identifying industry influencers and heavily engaging with them

Creating a killer 3 month content & social media plan and executing to perfection

Reviewing results, optimizin

g, doing it all again!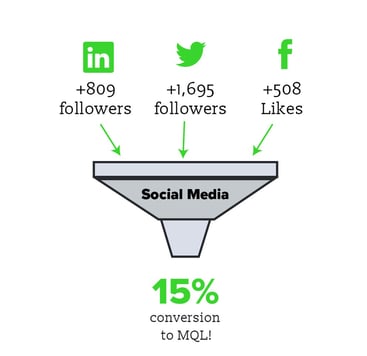 Step 4: Content, Content, Content
When done right, content is a great lead magnet. After solid footwork, such as keyword and persona research, Aqua published assets targeting DevOps.
The result: Extensive organic promotion through inbound and paid channels leading to over 27% conversion rate and a decision to repurpose it further by creating a sibling eBook, targeting a second key persona, Security professionals.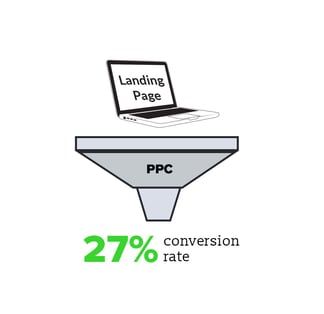 Step 5: Inbound marketing with Hubspot
Aqua chose Hubspot as their marketing automation platform. Mission critical work was conducted on:
Building personas - who is the target audience and what are their main concerns?

Lead scoring - how to determine who is a relevant lead or an MQL?

Nurturing workflows - which content should each contact receive and when?
Rani Osnat, Aqua CMO, is thrilled to be using HubSpot with strong content:
"My favorite features are the landing pages and workflows - it's so easy to get them up and running and change them around. The thing that surprised me the most was the impact of content, which when done right, and combined with an automation strategy has a long term impact on the marketing funnel."
Step 6: PPC
Instead of waiting for the inbound marketing efforts to jump organically, they added Google and Facebook as the main media channels to amplify them. They targeted relevant keywords and audiences, offering prospects relevant content to download and demo sign ups. We also used Google and Facebook remarketing to advance leads down the funnel.

Results

Social Media Skyrocketing with

Overall 15% conversion to MQL

Organic search numbers speak for themselves:

Avg. quarterly growth of 63%

x20 growth in leads Q1 2016 to Q1 2017

Overall 24% conversion to MQL

As a testament of their ongoing success Aqua received $10M investment from Microsoft Ventures in Sep. 2016.
Rani Osnat, Aqua CMO:
"Marketing Envy have become an integral part of our team, on whom we rely on to drive our marketing goals. Their knowledge in content, social media, influencer marketing and engagement are qualities that I wouldn't necessarily find in an in-house employee. I would advise companies to trust the method and let go of the leash, you won't be disappointed".
By combining HubSpot, the inbound marketing strategy and PPC, we could easily attract, engage and convert leads with top notch content (ebooks/ whitepapers/ blogs), engage with social media influencers and convert leads to MQLs.
Want to be next? Contact us today!