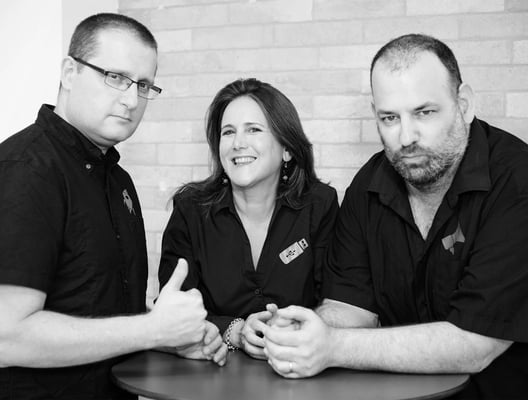 Marketing Envy & Converto Merge to Rid the B2B Tech Marketing World of S%#T Marketing

Billy Cina
DL;DR:
Marketing Envy and Converto will be operating from under one roof from here on out. Our mission is to free the B2B tech world of S%#T marketing, that delivers questionable business results!
The combined team of 20+ marketers and automation specialists are geared up to do precisely that. We'll provide B2B tech companies with the strategy, technology and operations they need to launch and scale their online marketing & sales activities. We will be digging deeper into the marketing technology stack, and for starters are introducing new services that include:
Wall-to-Wall, Hubspot ABM
The Perfect Sales <> Marketing Marriage
Marketing Platforms Without Borders

<<Full Blog>>
We (Amit & Billy) set up Marketing Envy a little over six years ago as a full service tech marketing agency. It didn't take long for us to realize that our strengths lie in providing specific services, notably inbound (messaging, SEO, content and social media) and integrated PPC. Our experience and growing client base also proved that B2B tech marketing was where we wanted to be. Adding Hubspot and becoming a Platinum partner enabled us to propel our customers' marketing forward.
Fast forward to May 2020, and close to 150 clients later, we are now merging with leading marketing automation and operations agency, Converto.
Why Are We Doing This?
We share a mutual disdain for S%#T marketing that generates questionable business results, and we see this in action far too often.
All 3 founders believe that in order for B2B marketers to launch and scale their online marketing & sales activities, they must tightly integrate excellent strategy, technology and operations. The three are inseparable.
We've worked together on multiple projects over the past year or so and well, we like each other…. Awww ;).
Together, we see 3 major developments in the tech marketing industry over the coming months and years.
The Future of B2B Tech Marketing, Our Top Three Insights:
Insight 1: With or without COVID-19, the demand for marketing agencies and freelancers in the gig economy is growing at an unprecedented pace. For multiple reasons that we won't digress into here, there is a worldwide shortage of experienced tech marketers who are capable of leading and operating the marketing activities required to steer business results. This is great news for marketers, but not so great if you are looking to hire marketing professionals in-house; we don't see this changing any time soon.
Insight 2: Marketing technologies are an increasingly vital component of the CMO's toolkit. The average marketer is working with 5 - 10 platforms/technologies to run, optimize and synchronize their activities; this too will not change. It does mean that marketers can specialize more in their preferred niche. The more creative (verbal or visual) folks have plenty of opportunities, as do the marketers who love digging into the technologies, operations and analysis. To succeed, companies need a combination of marketing strategists, visionaries, wordsmiths and those with the operational excellence to execute.
Insight 3: Last but not least, marketing and sales (and increasingly, customer service) teams no longer have the option to operate in isolation. The cliched Marketing<>Sales<>Service divide must be bridged and the two (or three) teams need to find a way to work well together. Luckily, there are marketing automation platforms that are making this quest much easier to implement and monitor. Every savvy company will need to implement and fine-tune these automation platforms to perfection in order to reap the rewards of truly nurtured leads, that slide down the funnel and turn into sales that become customer advocates.
3 Shiny New Services
To kick off, we'll be launching 3 new services in order meet our customers' growth requirements. Here's how we plan to eliminate S#$T marketing and help our customers make more money:
Package 1: Wall-to-Wall Hubspot ABM: Includes organic and paid campaign strategy, dedicated content, funnel optimization, data validation and ROI measurement. We'll even take care of the sales team content and emails. Oh and run best-in-market outreach programs to keep those SQLs coming.
Package 2: The Perfect Sales <> Marketing Marriage: We'll help stop the ping pong of SQLs and MQLs between sales and marketing. We'll put an end to the constant discussions about attribution and ownership of leads. We'll research, create and optimize marketing emails, sales communications and build for scale. We'll even add a twist of LinkedIn outreach. To top it all, we'll manage the beloved live chat and drive not only leads, but also qualified opportunities.
Package 3: Marketing Platforms Without Borders
With a combined track record of dozens of Hubspot, Marketo and Pardot implementations, our joint team is exceptionally well positioned to set up any B2B sales and marketing tech stack. Instead of getting bogged down by tool-specific capabilities, customers will focus on what they want to achieve and we'll set up the technologies and processes required to succeed.
So that's it from us, for now. If you've made it this far, why not set up a time to speak with Billy, Idan or Amit. You know how we love to chat :).