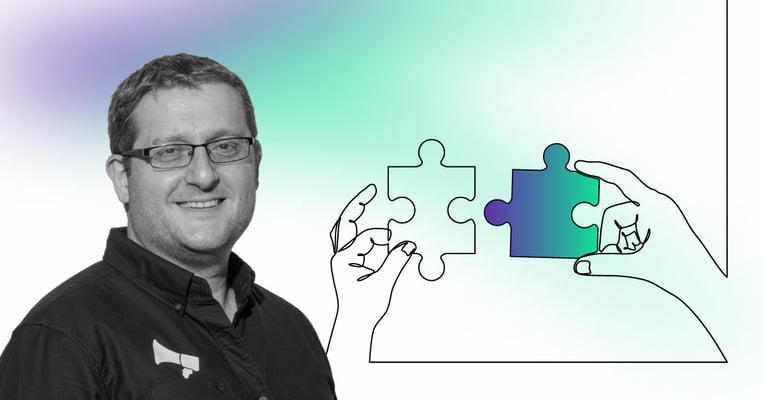 Modernizing Business with RevOps Teams & RevOps Platforms

Idan Carmeli
Today's typical consumers are a lot savvier and they expect top-notch service at every stage of the customer journey. As a result, businesses are experiencing more overlap than ever before between the traditionally siloed departments of Sales, Marketing and Customer Service.
Unfortunately, many of them are still generally playing to the beat of their own drums, so when they occasionally attempt to harmonize without someone to coordinate, it's a dumpster fire. That's exactly why a new business function has emerged to facilitate the ever-elusive goal of internal organizational alignment: Revenue Operations.
Let's get into it: What is RevOps?
Revenue operations (or RevOps), is the alignment of marketing, sales, and customer success operations across an organization, for the purpose of driving growth and revenue through operational efficiency. That is the most basic, dictionary definition, but when you really get into it, RevOps has some really exciting potential.
The idea is to increase communication and collaboration between these departments through improved, streamlined processes, and the collection and sharing of mutually-beneficial data. This is generally achieved through a variety of RevOps strategies and by consolidating disparate tools and software into a unified, central revenue operations platform.
This enables an up-to-date source of customer data (and who doesn't want that?) that can be enhanced and leveraged by all departments as they work towards shared goals. It's also far more conducive to a seamless and holistic experience for customers, no matter which department they deal with.
Revenue Operations Specialists:

A new breed of operational excellence
One of our favorite analogies at Envy to describe the role of revenue operations specialists is that of an orchestra conductor. Conductors know how to bring out the best in every musician so that they don't just play well on their own, but with each other, to produce the most harmonious and impressive performance.
Similarly, revenue operations specialists aren't part of Sales, Marketing or Customer Success, but they must have a strong understanding of:
The intricacies of each department

What it takes for each to perform at its best

A bird's eye view of the entire organization's ongoing activities
This way they can ensure all departments are working in the most effective and collaborative way, to minimize inefficiencies and maximize revenue.
In the past, this role would usually fall to the CEO or some other top executive. But as business operations have evolved it has become evident that this job function really needs a dedicated owner (Chief Revenue Officer) or a team of specialists with their own set of specialized skills and expertise.
Since they are required to maintain oversight over the entire business, they must ideally possess a multidisciplinary background encompassing Sales, Marketing, Customer Service and even finance and change management.
It's not just a leadership role, but a revenue optimization role. So they must also be fluent in business and data analytics, and be technologically savvy enough to recommend the most suitable tech stacks to facilitate the business's performance and revenue goals.
Let's be honest, this is a rare and valuable set of awe-inspiring qualifications – which some might argue are more likely to be acquired at Hogwarts than Harvard. – It's no wonder that RevOps specialists are in high demand, and Revenue Operations job titles on LinkedIn are increasing across the board.
"The Revenue Operations movement is here," explains Michael Lowe, Director, Brand and Content Marketing at Clari, "The next evolution of the traditionally siloed team structure, where teams move away from wasted time, finger pointing, inaccurate forecasts and a lone wolf mentality to data-driven collaboration, transparency and execution rigor, predictable business growth, and faster sales cycles."
Let us share more wisdom with you - talk to us today
The four main areas of responsibility for RevOps teams
The responsibility of revenue optimization specialists encompasses four main areas:
1.

Business Processes: Process design, implementation, optimization and documentation
Streamlining multiple departments that have their own systems and processes in place in order to minimize inefficiencies and boost productivity and revenue is no small feat. Department heads might be reluctant to change their ways, unless they understand how streamlining processes will be beneficial for the business as a whole.
That's why the design and implementation of new processes, along with ongoing optimization and consistent documentation is such a major part of the CRO's (or team of revenue optimization specialists) role.
Nailing this area of responsibility is important not only to ensure it actually works as it should to boost sales and customer experience, but also to secure initial buy-in and ongoing support from the company's employees for the new processes during the transition to a RevOps-led business structure.
2. Technology: Tool evaluation and selection, integration, operation and user enablement
The most important tool in the RevOps team's arsenal is the company CRM. This is why choosing the right revenue operations software is crucial to the success of their RevOps strategies, namely to boost productivity across the entire revenue pipeline while reducing IT costs and security risks. This involves:
Evaluating software used by various departments throughout the organization
Identifying the best way to unify their technological tool sets into a central platform that can service all departments.
This doesn't mean that some departments may not still need to use specialized software in certain circumstances, but the overarching goal should be to integrate a unified tech stack that can be efficiently shared for overlapping interdepartmental tasks.
Ensuring the ongoing smooth operation of this software will free up employees across all departments to focus on how they can deliver more value to their customers (always a good goal) rather than on tool issues.
3. Data: Data hygiene, modeling and upkeep, integrity protection, and cross-functional synchronization
Rule No. 1: Data is the backbone of every department, because it's essential to understanding customer preferences, trends and buying habits. When departments are siloed, they sometimes exert both funds and time to collect the same data for their own purposes.
In some cases, data collected by one department (for example Sales or Marketing) could potentially be extremely useful to another (for example Customer Service or Customer Success).
By consolidating disparate data systems across an organization into a central hub that can be accessed (and enhanced) by all stakeholders, RevOps enables all departments to share knowledge they may previously not have had access to.
This allows them to devise smarter strategies to boost customer engagement, conversion and retention, and to provide a more holistic and seamless service across all customer-facing touchpoints.
4.

Measurement: Data prep for analysis, report ops, dashboard design and implementation.
Implementing new revenue-boosting business processes, integrating a new tech stack to streamline siloed departments, and creating a central, turbo-boosted data hub that benefits all departments – demands a system that can analyze and report on the outcome of all of these initiatives on an ongoing basis. This helps RevOps teams:
Identify the business's strengths and weaknesses both at a departmental level and for the entire business
Modify or eliminate processes or tech that are hindering teams from achieving optimal revenue
Double down on those processes that are helping it thrive (which is the whole point of RevOps in the first place).
See how we can help you achieve your RevOps goals!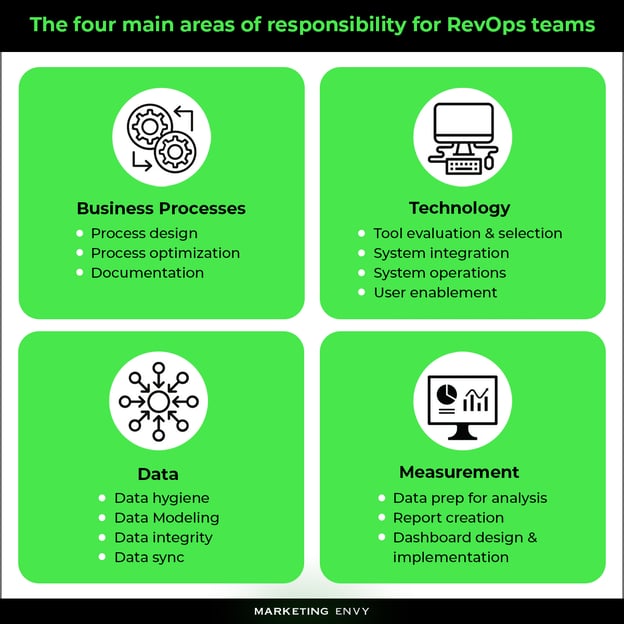 Even if you're not ready for a RevOps team, you can no longer put off a RevOps mindset
RevOps teams exist to:
Improve business processes
Procure, implement and

maintain revenue operations platforms

Remove obstacles hindering revenue generation and the ability of departments to provide a seamless, customer-centric service
Ensure that the entire business performs as a single-minded unit with a common, revenue-forward mindset.
"With the increasing rise in innovation and the urgency in breaking down company silos, we are currently moving towards a new reality where marketing, sales, and customer success operations must work together as one," says Vertify CEO Matt Klepac.
It seems that savvy companies are catching on, with Gartner predicting that 75% of the highest growth companies in the world will deploy a revenue operations model by 2025.
According to a 2022 Customer Acquisition and RevOps Team Benchmarks report, even earlier stage companies are incorporating RevOps. The most common period in a company's growth to start a RevOps function is between $5M – $20M ARR.
Some businesses may have already started operating with a RevOps mindset without officially calling it "RevOps" because they have yet to hire a dedicated person or team to take over the role.
But for companies that lack the budget or bandwidth to establish a RevOps team (we know this covers a lot of ground), appointing a clear owner for each department is a start, and allows them to work more collaboratively towards improving efficiency and boosting revenue.
Another option is to outsource the RevOps function to an agency that specializes in it – like Envy (yes, we are tooting our own horn here, but really we love helping businesses find that alignment).
To see how we can help you with your RevOps efforts: