Startup B2B Marketing Success: Seed to Exit in 24 Months

Billy Cina
"Obviously it's an amazing feeling, having a huge corporation such as Cisco acquiring a small startup from Tel Aviv." says Ran Ilany, CEO of Portshift,
"Marketing Envy did fantastic work with exposing us to the relevant audience".
A word about Portshift, (now a Cisco Company)
Portshift developed a Kubernetes-native platform that leverages the power of Kubernetes and Service-Mesh to deliver a single source of truth for containers and cloud-native applications security. This is the only solution offering an agentless approach, with a single Kubernetes admission controller for seamless integration.
In a nutshell, Portshift is the new approach to enterprise security for the next generation.
Portshift's key B2B marketing challenges
They were a small startup that was relatively unknown. How could they breakthrough and become a thought leader in a world that knows nothing about them? The targeted audience was small and specific; what would be the most cost and time-effective way to target them?

They had an awesome solution for their target market's pain points, but first, they needed to recognize that a problem existed.

Oh, and did we mention that their target audience was very technical? They could sniff out a marketer in half a second and then they'd be off and away.
Those were the biggest B2B marketing hurdles that Marketing Envy had to jump through when we began working with Portshift.
An enviable B2B marketing strategy
Marketing Envy quickly produced an enviable inbound-led marketing strategy, supported by some PPC, which brought Portshift to acquisition by Cisco within 24 months.
SEO & Educational content creation
The first goalpost was to create content with which to lure their DevOp and DevSecOp target audience.
Strategic SEO and keyword analysis followed by a content strategy packed with several blogs per month, ebooks, pillar pages and informative web pages was key to accelerating traffic to their modest website. A strong inbound funnel was in the making.

Thought leadership
The focus was on establishing a reputation as a thought leader and source of knowledge for all things service mesh and cloud security, through market education and building awareness. Posting about Portshift's product was really not high on the priority list, we wrote content on many topics relevant to our audience, such as "14 Essential Kubernetes & Cloud Security Resources for the DevOps Community" and "3 Technical Benefits of Service Mesh, and Security Best Practices".
This content was extremely well received, so much so that Cisco is continuing to maintain this repository of assets online (and live) that Marketing Envy and Portshift kicked off.

Content Distribution through organic social media platforms
Content distribution initially was conducted through organic social media channels only.
While posts were shared rigorously on the Portshift brand pages across the board, far more traction and engagement was achieved on the C-level posts. And this is where we focused much of our efforts.
We recommend posting 2-3 times a week on the brand's LinkedIn feed and Facebook page, 2-3 times daily on Twitter, and frequently from C-level or significant community member's personal profiles as well.
"Cisco tracked us down from our LinkedIn posts….I actually got feedback from the Cisco folks which was quite amazing in my opinion," Ran Ilany, CEO of Portshift.
Posting on Reddit too is underrated. Relevant content on this channel drives engagement from highly relevant folks.
If getting noticed by Cisco isn't enough of a win, a consistent increase in direct traffic to the website, SEO ranking and social media traffic fueled further confirmation, monthly .
PPC (paid marketing campaigns) on LinkedIn, Google Display Network and Google Search only kicked off 12-18 months into the content creation and distribution cycle.
Want Marketing Envy to help you get to your next funding round or acquisition? We'd be honored, so get in touch.
The results:
PPC marketing highlights
With an effective inbound B2B tech marketing campaign in place, it was time to run PPC campaigns to further expand awareness and generate targeted leads for Portshift. LinkedIn post promotion was always part of the mix, but it was time to crank the volume up a notch.
Multi-channel
We ran ads on both LinkedIn and Google to capture the right mix of relevant, intent-qualified leads.
LinkedIn Mix and Match
For LinkedIn, we combined more than one awareness campaign including promoted posts and text ads together. We ran a lead generation campaign in addition to this, encouraging leads to progress further down the funnel with lead generation ads for e-books and demo ads.
Google Search & Retarget and Retarget Again
We ran Google search campaigns for 2-3 of the main keywords, including "Kubernetes Security", together with a remarketing campaign for Google Display.
After conducting keyword research and choosing what keywords to focus on, we created a dedicated landing page and ads for those keywords. We made sure to emphasize the keywords in the copy and to create an alignment between the ad copy and landing page copy.
In parallel, we also ran a remarketing GDN campaign, targeting people who visited the website, showing them "free trial" ads.
Starting with a relatively low budget and closely monitoring and optimization, we were able to receive many qualified leads.
Examples of ads that converted <Simplicity Works!>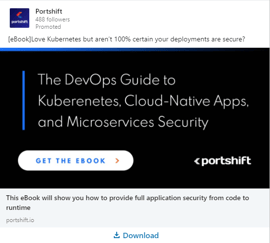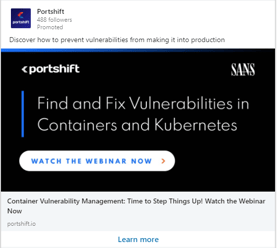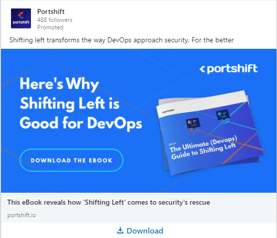 These ads were straight to the point, drew potential customers in with their pain points and caught the attention of the highly technical DevSecOps teams.
B2B marketing achievements - acquisition worthy
One LinkedIn post received so much feedback for Portshift that it attracted the attention of the Cisco folks themselves! Cisco tracked Portshift down, and the rest, as they say, is history.

Organic traffic
Monthly user traffic numbers shot up! From July 2020 to October 2020 there was a rise of 1700% in just 4 months; total 2901% increase from August 2019-October 2020.


New LinkedIn followers
LinkedIn follower numbers rose steadily every month, thanks to important content and thought leadership.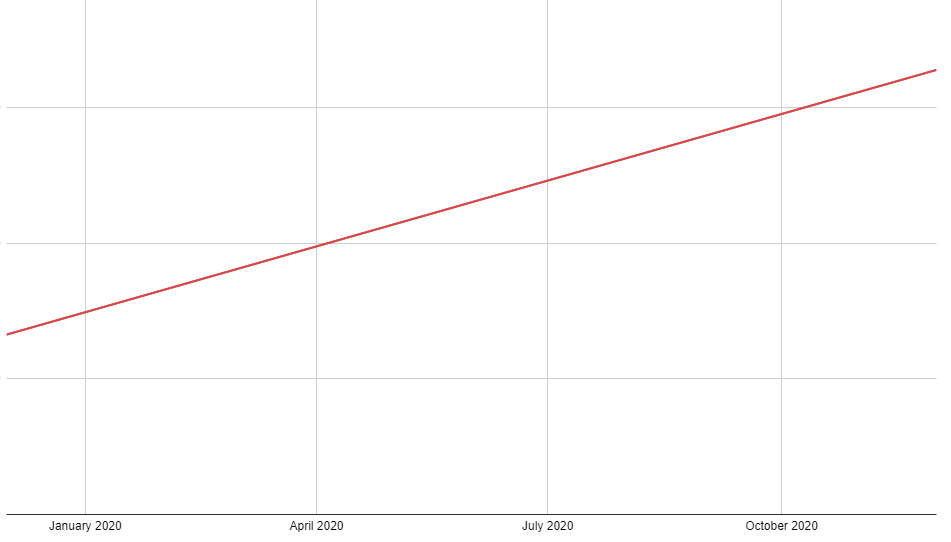 Traffic from LinkedIn
Traffic directed to the website from LinkedIn increased by 300% in 3 months.

Why Portshift chose Marketing Envy
In addition to hiring an excellent VP of marketing as one of their first executive hires, Portshift also decided work with a tech marketing agency. They realized they needed,
"highly professional, experienced marketing folks who knew what they were doing, and Marketing Envy fit the bill. Marketing Envy offered an umbrella of marketing services to carry the Portshift message through varied media to the right audience".
Want Marketing Envy to help you get to your next funding round or acquisition? We'd be honored, so get in touch.
---
PS: If you found this helpful, I'd really appreciate it if you can click here to share it on Twitter - besides helping my ego, it's just fun to get notifications 😉