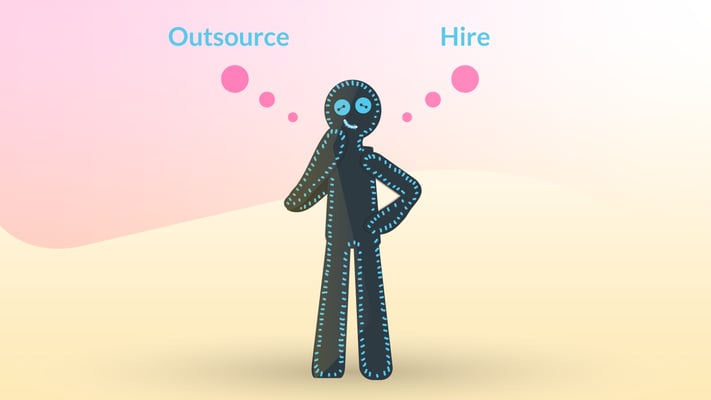 In-House Marketing vs. Marketing Agency: 96% of Companies Have Decided

Deborah Brown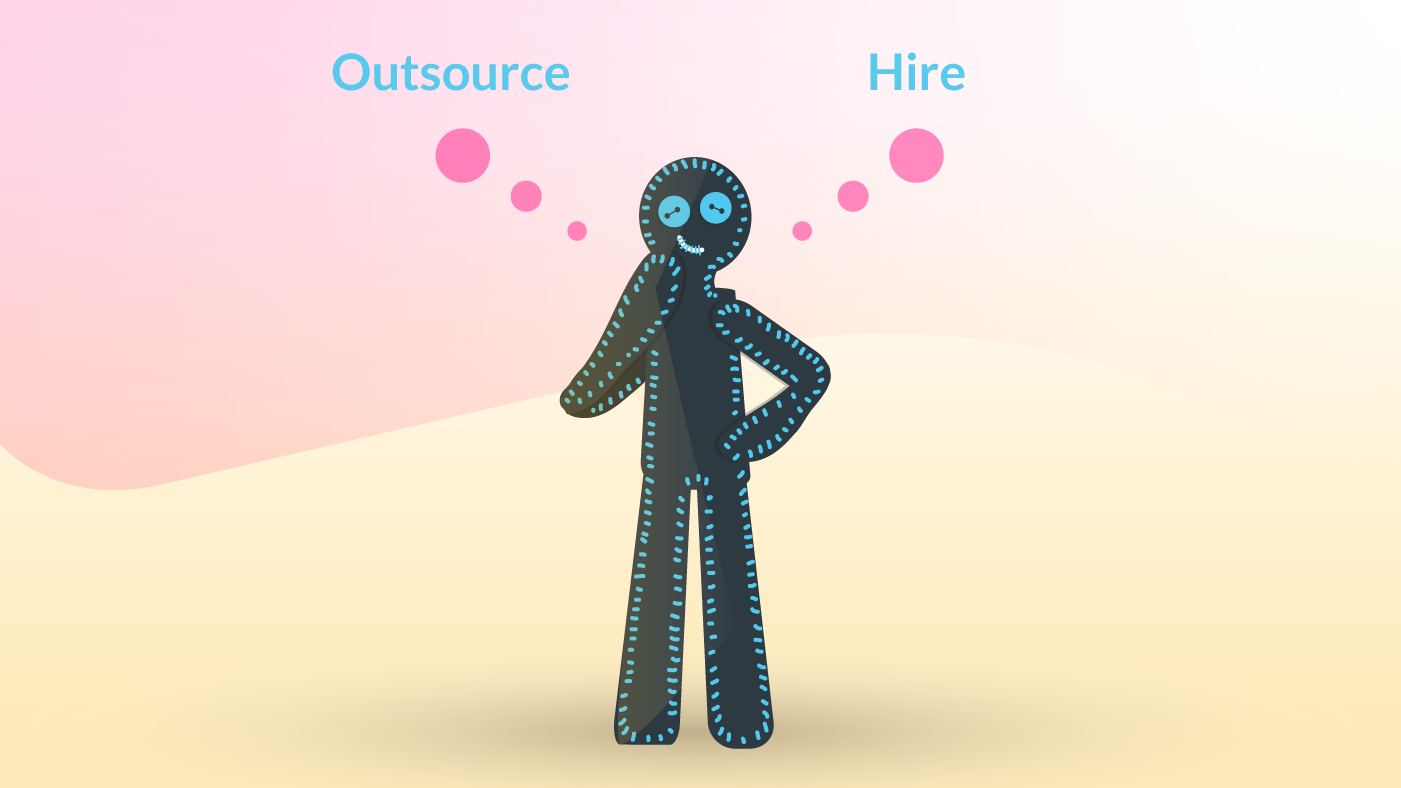 Reading time: Approx 3.5 min
To hire or not to hire? When it comes to startup marketing, the question inevitably arises, should I hire an in house marketing team, or outsource to an agency?
Agency route is becoming more and more popular. 89% of businesses consider access to contractors important to their success, with almost a quarter of them believing it's critical, according to the 2017 State of the Services Economy research report by Mavenlink and Gigaom. The numbers are staggering and it's hard to stay oblivious to the dramatic shift to project-based work when, according to the report, 96% of business are actively seeking new contractor relationships. That's almost a 100% of the market!
But should your startup really jump on the agency bandwagon? Which will yield a higher ROI in your marketing operations, a marketing agency over a full-time in-house marketing team?
While it is often argued that there is no clear answer, there actually is. It all comes down to two things, your budget and availability of resources. We broke down the top reasons to take into account when deciding between hiring in-house or outsourcing to a marketing agency.
Cost
Not surprisingly, the biggest hurdle when building a full-time marketing team is money. Besides recruitment and training costs, you will require a balanced mix of multiple specialties and skillsets. Compounding the problem can be the fact that you simply can't find qualified employees, even if you have the budget for them. That is why it is usually cheaper and easier to buy a bundle of services from a marketing agency vs. hiring multiple employees.
Another criterion that is often overlooked by startups eager to launch their own marketing activities is the amount of actual workload they have available. Oftentimes, hiring a full-time marketing team is inefficient, as there is simply not enough work for them to do.
But that's not all. As we'll explain in a moment, an agency brings the kind of in-depth experience that saves you from making expensive mistakes and, instead, brings positive results to your bottom line.
Speed
According to the report, speed of delivery is the top reason a quarter of the companies turn to service providers. They know an established, experienced team who has done the same thing over and over again can usually deliver quickly.
But it's also the fact that 78% of research participants believe that the business world is changing quickly, and they need a partner who can keep up. An in-house marketing team needs to be trained and needs time to make mistakes.
A marketing agency needs time to get to know your business too, but already has the skills and experience to help you with a strategy that gets you to the market faster. When needed, it's faster for them to add specialized members to the team than for you to figure out who is experienced enough to fit your needs.
Quality
When businesses were asked to select the most important attributes for success, they identified specialization of services as the second most important criteria– only 1% less important than the speed of innovation.
If you have the marketing experience to understand your company needs and the budget to hire people who can get you results, then hiring a full-time marketing team might be the best way to go. We recommend doing that when you can have a long-term perspective, and see beyond a 12-month period.
In the meanwhile, remember that a good marketing agency usually has unparalleled experience with dozens or hundreds of companies in your field. Its team has clear evidence of what works and what doesn't, and the exact practices it takes to succeed.
Stress
Having a team at the office can be a lot of fun, and there's no doubt that creative ideas come up in the most unexpected ways and from completely random conversations you don't have with a remote, outsourced team very often.
But if you spend too much time dealing with the stress of managing people or worrying whether you hired the right people in the first place and if they'll be able to pull off a campaign, consider scheduling a consultation session with a marketing agency.
With an agency, you'll have proof of success and positive work relations from many of your peers (check their testimonials and case studies). Plus, an agency that specializes in marketing knows the importance of putting your needs first, which is something employees sometimes forget.
Commitment
There are a lot of benefits to sticking with the same team for a long time, but what if you suddenly need a different skill set, or the quality of your current team is poor?
It's easier to make drastic changes when you outsource, according to the research, 41% of businesses frequently change their contractor partners. The #1 reason for doing this? Companies want access to a variety of specialized skills.
Tools could be another reason. Marketing requires using a lot of tools, and that usually requires a big investment – both in the tools themselves and in training employees how to use them. That's intensified when you only need certain tools at certain times, like in the midst of a go-to-market campaign. When you collaborate with a marketing agency, you get access to the tools they've already acquired – and, as a bonus, to their experience in using these tools to drive real business results.
Scale
All of the above make it easy to see why scaling your company is simpler with a qualified marketing agency. You can go through recruitment and training hassles, and hope your team can deliver, or opt for an experienced agile agency that already knows how to set great KPIs, bring you bottom lines results quickly, and how to scale them up.
How to Make the Best Choice for Your Startup
To make the best choice for your startup, we recommend listing your difficulty level in every section above from 1 to 10 – 1 meaning there's no difficulty, 10 meaning it's unbearable. Then make a decision based on the entire picture you'll get.
Here is an example of how it should go:
Cost 3: You have a sufficient budget for marketing, but you prioritize spending it on actual marketing activities (e.g. Content creation or PPC) rather than hiring in-house.
Speed 8: Competitors are breathing down your neck, or have by far surpassed you on the marketing front. You needed that blog, PPC campaign and MQLs yesterday!
Quality 7: Within your allocated budget you can hire a junior PPC analyst, with no experience in your particular industry. Or you can spend the budget on hiring an expert team with years of experience. Granted, they won't be working on your project full time. But they don't need to.
Stress 5: You get the outcome without having to spend your time on managing your team and making sure everything is on track. This can be invaluable to the busy CMOs and other senior marketers who need to concentrate their efforts on strategy and not on execution.
Commitment 5: Having a freedom to change direction when the results are not satisfactory can mean the difference between life and death in a fast-paced digital marketing world.
Scale 6: Scaling in-house means hiring. Putting aside the cost, finding just the right talent is an issue we have all struggled with. Quite often open positions stay that way for months. Scaling in-house is not a quickly executed affair.
If we've just described your situation, guess what? You're probably better off with a marketing agency at this point. Don't hesitate to contact us for a quick consultation to get you on the right track.