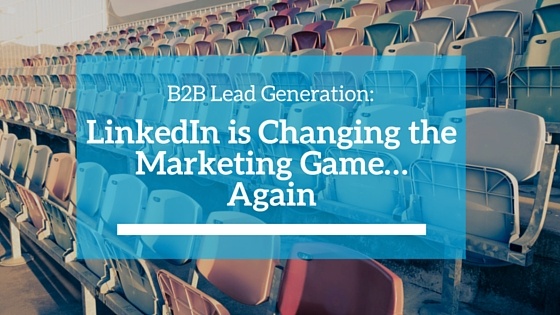 B2B Lead Generation: LinkedIn is Changing the Marketing Game…Again

Amit Lavi
Reading time: Approx 3.5 min
In the world of B2B marketing, LinkedIn is more than a place to connect with colleagues and find new opportunities. It's a forum for reaching the customers valuable to your business. It took the social media game for business context to a whole new level, so much so that 94% of all B2B marketers use it as their primary source of social media marketing.
With account targeting and a platform for narrow sponsored content, LinkedIn allowed companies to appear in the feeds and minds of its most ideal customers. It was no longer a dream to raise brand awareness with CEOs, it was a reality. Companies could even get as specific as title, fields of study and skills. In theory it showed great potential, but in reality advertising on LinkedIn has always been quite frustrating.
The ads program on LinkedIn was an algorithmic revelation, but a logistical nightmare. The cost was high, the concentration of users and likely converts were low. The interface was tough to scale up and allowed no bulk editing to your carefully crafted campaigns. Finally, showing a positive ROI was very difficult with the basic conversion tracking options.
With these pain points in mind, LinkedIn will soon be rolling out some transformational changes to the ads program, making sponsored content a more effective and competitive option to Facebook and Google. Hopefully, with their recent purchase by Microsoft, LinkedIn will start to release more frequent improvements.
The three new promising features are what B2B marketers have been demanding for years. Soon, they will be able to test them out to see if it's everything they've ever wanted in a social media targeted ad program.
1. Conversion tracking. Perhaps the most in-demand feature, soon LinkedIn ad buyers will be able to track who converts and target the accounts more likely to convert using a conversion pixel. Being able to track a conversion, sign-up or registration back to a LinkedIn ad will guide future campaigns and clearly prove the ROI of such activity. A transparent conversion tracking feature will attract and please far more marketers interested in leveraging LinkedIn for valuable leads.
We've noticed again and again that LinkedIn is great for late conversions, i.e. conversions that started from a visit from LinkedIn ads but converted afterwards via email, direct traffic or even other PPC channels. Even by measuring correctly via Google Analytics, it's very hard to understand which campaign impacts conversions. With conversion tracking, advertisers will be able to immediately see which ad or campaign had a positive ROI and which didn't.
2. Email-based audiences.
Integrating email campaigns with a LinkedIn campaign will extend the reach of a message and more accurately target specific individuals. Companies can now match their LinkedIn efforts with email activity. This is similar to Facebook's custom audience feature, but could be more promising for LinkedIn. B2B companies look for corporate emails which are not common on Facebook, where matching rates tend to be low.
LinkedIn users tend to add their corporate email to the platform which has the potential to increase the matching type and the targeted audience. Furthermore, once LinkedIn releases a tool that targets "similar audiences", they'll become very accurate and significantly extend the targeting base and make it easier to target users through the platform.
3. Website ad inventory. As I mentioned before, LinkedIn has the best targeting options of all other platforms for B2B advertisers. Unfortunately, prices on the LinkedIn news feed are very high. It seems LinkedIn will start opening its platform to show ads on other, external websites on Mobile and perhaps also Desktop. This will allow much more inventory for sponsored stories and could provide higher ROI with reduced costs.
Over the next next few months we may witness LinkedIn taking position in the ad game with a solid plan and a fervor to succeed. It might be the Microsoft acquisition fueling LinkedIn's ambition or simply the obvious need from B2B marketers. Either way, LinkedIn is interested in a bigger share of the growing B2B advertising budgets and is finally becoming more aggressive in pursuing them.
For more about LinkedIn's new features, see here.