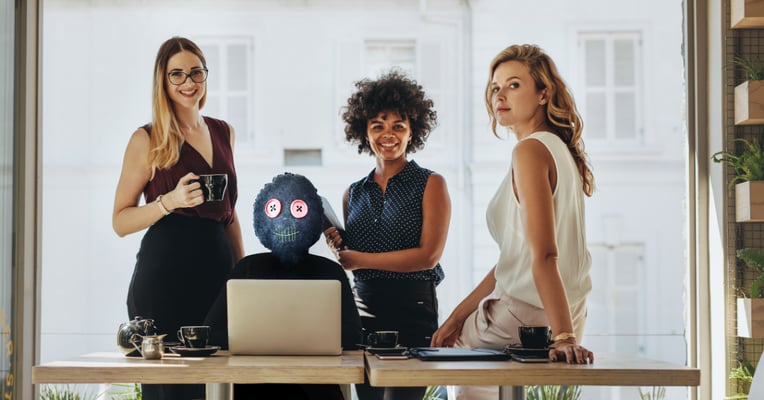 Gender Diversity in the Startup World: 10 Startups making an impact

Gemma Rachel Goldstein
After years of anxiously eyeing the low number of women in tech, things are changing. Although we're nowhere near equal numbers, startups are seeing not just the ethical but also the business argument for diversity.
According to researchers at the Boston Consulting Group, businesses with women founders or co-founders produce 78 cents for every dollar of funding, while all-male-founded startups generate only 31 cents per dollar of funding. Private tech companies led by women enjoy 35% higher RoI.
We're seeing 114% more women entrepreneurs than there were 20 years ago; women have started 1,500 new companies in the past 2 years; and 64% of last year's new female-owned businesses were started by women of color.
In honor of International Women's Day, we chose 10 leading B2B startups that are either founded by women, or make a significant effort to embrace diversity.
1. Accompany
Accompany is an excellent example of a woman-founded company that's flourishing. It was founded by Amy Chang to provide an AI-based lead-generation platform that helps companies build and strengthen seller relationships. It was acquired by Cisco in 2018, and Chang continued leading her team as the senior vice president of Cisco's Collaboration Technology Group (CTG).
2. AppsTech
Rebecca Enonchang is the woman of color who founded AppsTech, a global tech company that provides enterprise application management solutions. After establishing AppsTech in the US, Enonchang moved it to Cameroon and partnered with ActivSpaces.
ActivSpaces is a hub that nurtures tech communities and actively mentors local tech entrepreneurs with short training courses, a startup incubator, coworking spaces, and volunteering opportunities.
3. Automio
Not only is Automio founded by a woman, Claudia King, it's raison d'etre is to help all kinds of entrepreneurial lawyers to scale their business by automating time-consuming and repetitive tasks.
Through Automio, King presents a wealth of educational resources for women lawyers, in particular, to learn how to manage their legal business more efficiently and rebalance their work-life experience.
4. Fetch Robotics
Melonee Wise, the co-founder of Fetch Robotics, is very conscious of serving as a role model to other women who are interested in a career in robotics and engineering. Fetch's workforce is at least 20% female (it sounds low, but is sadly actually a very high percentage in this industry), and the company pays attention to the subtle cues it sends out that encourage women to apply.
Fetch Robotics delivers autonomous mobile robots (AMRs) for use in warehouses, logistics, and fulfilment settings.
5. Lever
Lever develops and sells talent acquisition and recruitment software. It's an interesting example of a startup that was predominantly and stereotypically male, until the sales team started to focus on creating more balance within the company.
After sparking a lot of conversation with a thought-leadership piece on the need for more women in tech sales, the startup significantly expanded the sales team and the number of women doubled from 21% to 42%.
6. Predina
Predina was founded by Bola Adegbulu and Meha Nelson, both people of color, to offer AI-based risk assessment software to autonomous vehicle makers. Adegbulu has been named one of Forbes 30 under 30, while Nelson was awarded the MIT Innovators 35 under 35 award in 2019, and both of them have moved on to new roles in other companies. Don't worry though, Predina is still expanding.
7. R3 Score
The co-founders of R3 Score, Teresa Hodge and Laurin Leonard, are women of color who are also mother and daughter, making an unusually multi-generational startup founding team.
As female founders of color, the pair appreciated that the TechStars Austin Impact Accelerator understood their needs and gave them the support and mentoring to help them develop and launch their FinTech offering.
R3 Score's platform helps employers assess applicants with criminal records to help jobseekers with a record to find stable employment.
8. SenSanna Incorporated
SenSanna Incorporated was founded, and is still led, by Jackie Hines, who is proud of the way that her company is disrupting the IIoT sensing industry. SenSanna develops cutting-edge wireless SAW acoustic sensors that can be customized for its clients' needs, delivering a new level of insight and reliability for industrial monitoring solutions.
9. Tipa
Tipa is a startup that produces packaging that is fully compostable and biodegradable, and it was co-founded by a woman, Daphna Nissenbaum, who's still the CEO. Women also occupy 3 of the other 9 C-suite positions at Tipa, showing a commitment to diversity that goes beyond the founder.
Tipa primarily serves the food and fashion industries with effective, flexible, and protective packaging that doesn't leave a mark on the environment.
10. Wix
Wix is well-known in the startup world, mainly because a lot of companies and B2B marketing agencies use the platform for their initial websites, but it's also establishing a reputation for diversity and merit-based hiring.
In a recent LinkedIn post, one of Wix's employees, Oozy Bitew, shared his frustration at being unable to break into Israel's hi-tech industry as a new Ethiopian developer - until he applied to Wix and found a chance to prove himself.
Wix also participated in a Tech-Career conference discussing diversity in tech, sharing advice to help minority participants nail their dream position.
You too can make your startup a haven of diversity
If you're feeling inspired by this list of diversity-positive companies - and you certainly should be - don't let the inspiration go to waste. You can improve inclusivity and diversity in your hi-tech startup or B2B marketing agency by following these tips:
Look at your last 5 hires and your last 5 promotions, and consider how diverse they were in terms of gender, ethnicity, and background
Take the same long, hard look at the last few raises and bonuses you handed out, and ask yourself if they reflect a broad set of contributions
Become aware of your own personal biases, like

believing that women are better at marketing

or men are better at leadership
Think about the last 5 people who left your business, and look for any similarities between their circumstances or backgrounds
Do your best to establish diversity among your leadership team, which will help create an atmosphere of inclusivity and diversity among the rest of the organization
If you are a woman or a person of color in a management position,

commit to mentoring female/minority employees

instead of fearing that they'll threaten your position
If you're looking for more tech marketing advice from an experienced B2B marketing agency, we're here to help.
Connect With Us for B2B Marketing Knowhow | Contact Us Today
PS: If you found this helpful, I'd really appreciate if you can click here to share it on Twitter - besides helping my ego, it's just fun to get notifications 😉