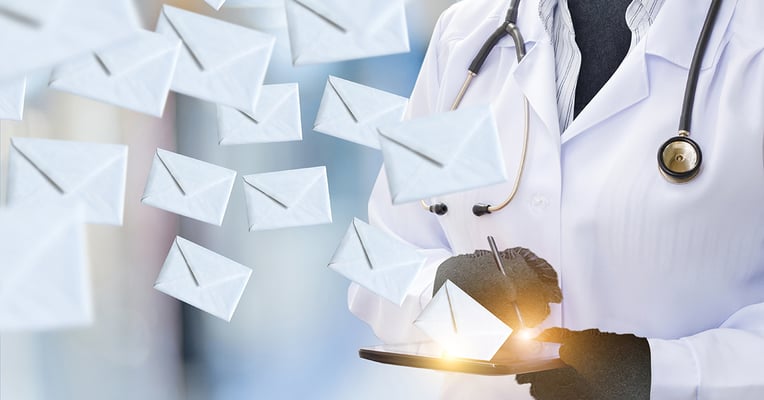 HubSpot Feature Highlight: Email Health Dashboard
Improving your email sending reputation with HubSpot's email health dashboard can lead to significantly more opportunities for your organization.
What is the HubSpot Email Health Tool?
HubSpot's email health tool is available in all products and plans. It uses all HubSpot email marketing best practices to advise you on how to improve your emails and your email sending reputation.
What is an email sending reputation?
Every Internet Service Provider, also known as an ISP, assigns an "email sending reputation" score to every organization that sends an email. Think of it as a game, the higher the score, the more likely an ISP will deliver emails to the inboxes of recipients on their network. If the score falls below a certain threshold, the ISP may send emails to spam folders, or just reject them to begin with.

There are quite a few components that make up the score, for example how many emails bounce, or how many recipients unsubscribe. This is just the tip of the iceberg as there are many other factors that come into play.
To navigate to the tool, just click the "Marketing" tab, and then click "Email". From there, click the "Health" tab.
Overall Email Health
The first thing that'll grab your attention is the "Overall email health" block. It's an average that's based on email performance for a certain period of time. If you press "Over time", you'll see a graph of how your email health has changed over the last 12 months. This is perfect for when you need a high-level overview of your email performance.
Top Recommendations
Below this, you'll see the "Top recommendations" block. This block shows you which emails are decreasing your email health, but also which are improving it. This is where insights become granular and results-driven. Try to use the insight mentioned next to each email to optimize your email strategy. For example, if the open rate for a specific email is low, consider looking into ways to improve email open rates.

The bottom-most block is the "Email health breakdown" block. It allows you to view the individual factors that contribute to your health score. Below each percentage, you'll see whether action is needed or whether you're on track.
By pressing "See details", you'll get a basic explanation of the KPI, resources for improvement, and a KPI specific performance graph. For a marketer, this information is digital gold. Using these insights to optimize your email strategy will help you improve your email sending reputation. Ultimately, this will lead to more recipients receiving your emails, which could potentially lead to more opportunities.
Optimizing your email strategy on HubSpot is an ongoing process. If you don't see results within a month, don't give up; just keep at it. Going from "action needed" to "on track" usually takes a few months. Consider visiting this email health tool at least once a month to see how your performance changes. Remember, it's an ongoing process, the changes you make one month may be less crucial than the changes needed in another month.
Get in touch with Marketing Envy for more expert HubSpot wisdom and guidance.
PS: If you found this helpful, I'd really appreciate it if you can click here to share it on Twitter - besides helping my ego, it's just fun to get notifications 😉