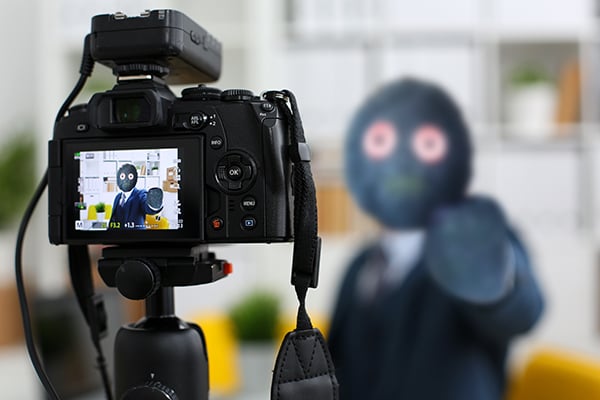 Top 3 Video Marketing Platforms: Which Did We Choose?

Sharon Enkaoua
Video marketing is, hands down, one of the most important strategies in content marketing today. The evidence is overwhelming; one-third of online activity is spent watching videos. Over 500 million people are watching videos on Facebook daily. More than 500 million hours of video are watched on YouTube every day. Need I say more?
As a marketing agency, we have a growing need to create videos for our cyber security and tech clients as well as ourselves, and we needed to find the right platform for us; no easy feat when there are dozens of options and hundreds of features to evaluate. To make this decision easier, I researched over 10 video platforms and checked out their ease of use for new video producers, ability to customize the videos, choice and quality of supplemental videos, images, animations, and music. I also looked at the overall cost of the service.
Then, I narrowed down the options and tested the top three contenders. Below are my findings. I hope they help you find the right video platform for your own needs.
The Lumen5 platform was created to enable anyone without technical training or experience to easily to create engaging videos within minutes. With Lumen5, there's no need to sift through stock images to find the most relevant ones: the platform suggests stock images based on the text you provide.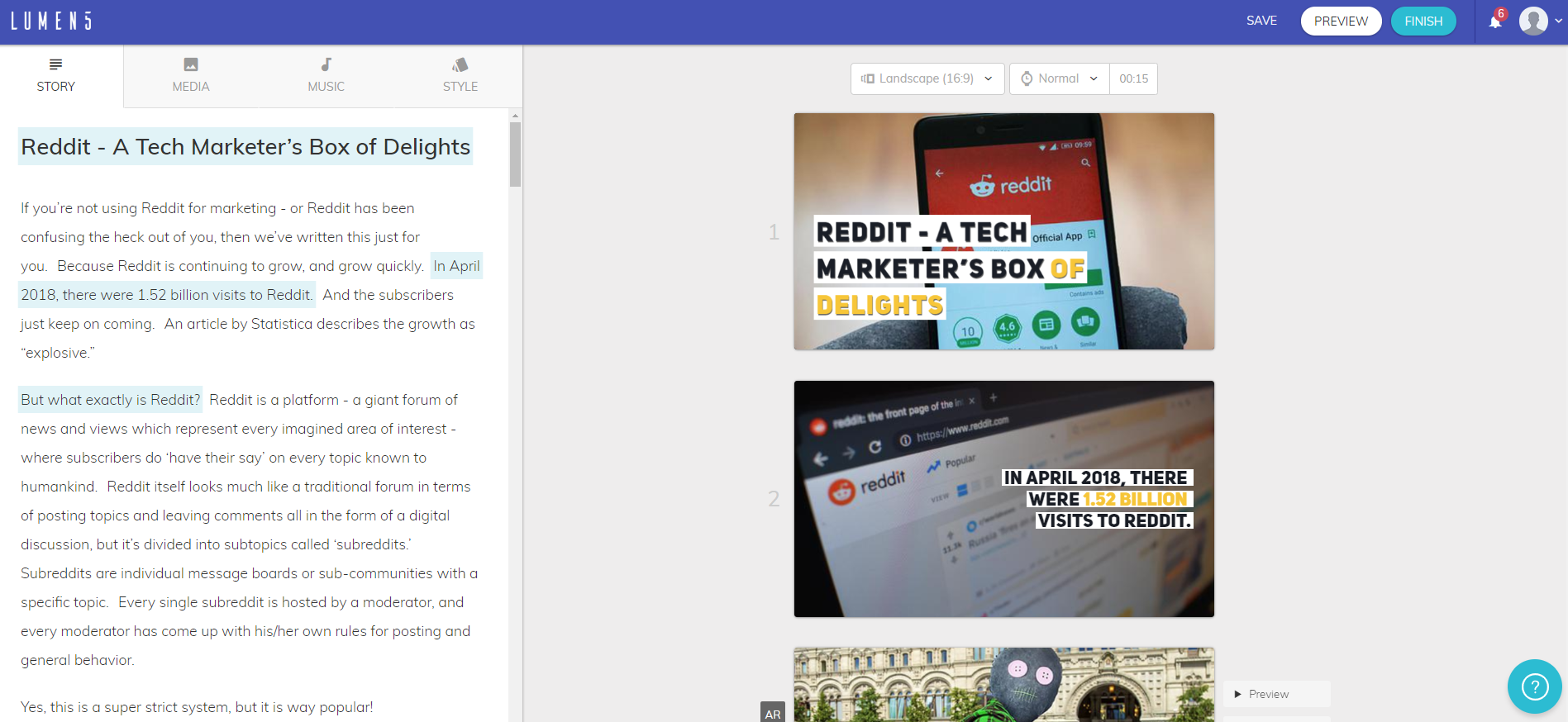 Lumen5 dashboard
Reddit - A Tech Marketer's Box of Delights
The Community plan is free and allows one user to gain access to a standard catalog of images and video themes. All videos made with the Community plan have the Lumen5 branding on them. Paid plans start with the Pro plan at $49/month. The Pro plan is suitable for only one user and it includes a standard media library and custom themes, as well as removal of the Lumen5 branding. The most comprehensive (and expensive) plan is the Team plan which is suitable for enterprises that need branded themes, multiple users and team management, as well as more customizable features. The Team plan has custom prices not listed on the company's website.
Pros:
Creates simple videos in minutes
A machine-learning algorithm that inserts relevant images to the video automatically, saving time by reducing the selection process
The producer can easily select specific parts of the blog to include in the video and omit less-relevant sections
Cons:
Simple videos with no real customization options
Text placement is limited to specific grid locations
The video and image banks aren't diverse enough to create truly unique videos
Bottom Line: If you're looking for a really quick way to get decent quality videos to support an original blog post, Lumen5 could be a great solution.


Promo by Slidely is an easy-to-use, customizable video editor that has a robust catalog of stock videos, pre-made templates, and stock music that will give your videos a truly custom-made look and feel. Prices range from $39/month to $249/month, with custom packages available for enterprises and charities.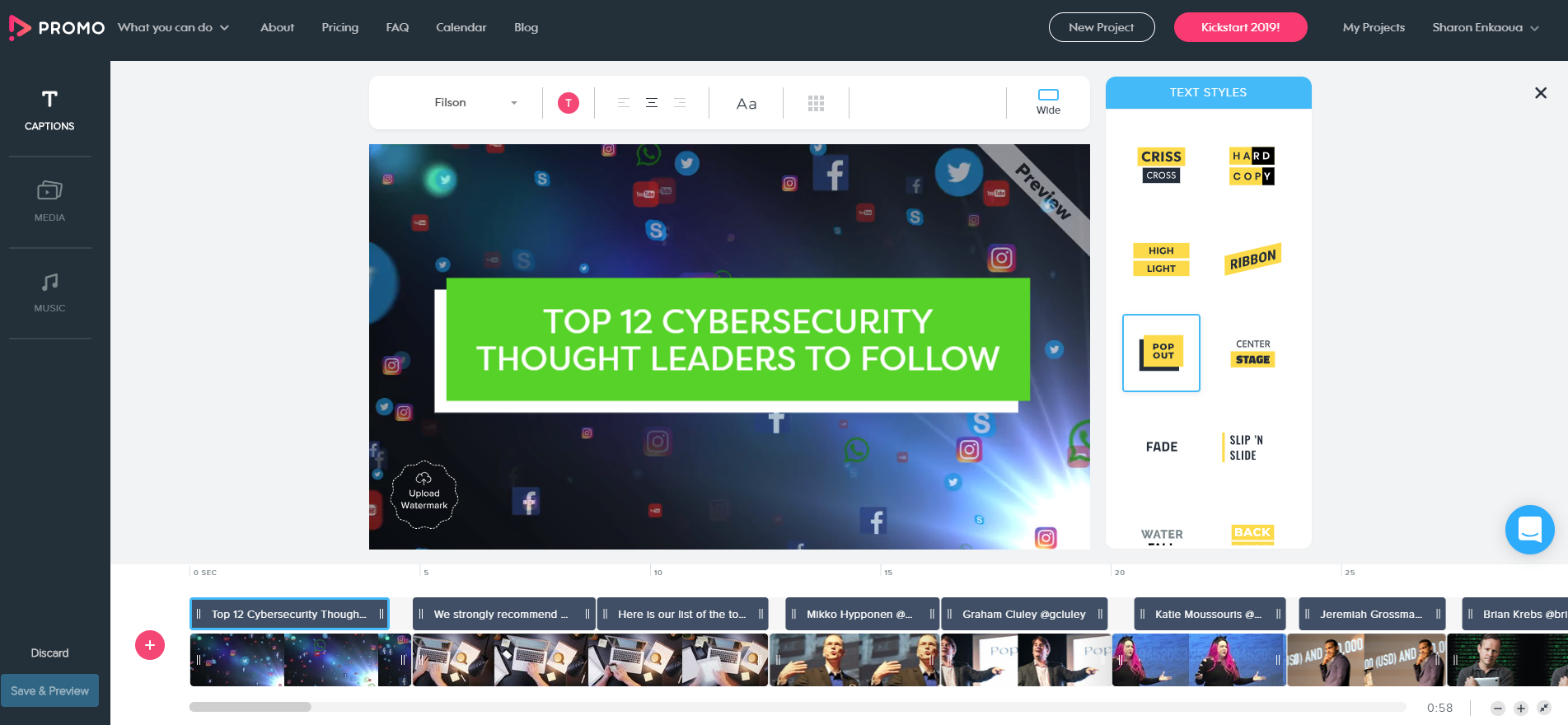 Promo by Slidely dashboard
Top 12 Cyber Security Thought Leaders to Follow
One thing that makes this company stand out is that they continually research video marketing trends and share their data to improve their service and their customers' results. Slidely CEO Tom More says that "These insights are invaluable to businesses and agencies that want to maximize the impact of their online advertising efforts. The more marketers know about customer behaviors, the better they can tailor their campaigns to their audience."
Integrates with HubSpot
Creates sleek, professional-looking videos
Great selection of stock videos/images/music
Users can upload their own creatives
Cons:
To see if images and sound are in sync you must preview the whole video, which is not convenient
No intro options or transitions between videos (transitions are between photos only)
Text is limited to 100 characters and one text box per 'slide'
Pricing is relatively expensive
Bottom Line: Like Lumen5, Promo by Slidely is a solid option for companies that want quick, semi-custom videos, such as ads or generic videos. If you're looking for advanced customization, you may not find what you need.


From my first visit to Powtoon's website, I could easily understand why this video platform earned a spot on G2 Crowd's list of top free animation software in 2018. Powtoon is a platform for creating engaging, animated videos that look and feel like movies. Users can start from scratch or choose from pre-configured options. Uploading your own creatives is quick and straightforward, and there are many fun transition effects to choose from. The software is especially convenient for creating whiteboard animations, demos, and animated explanatory clips.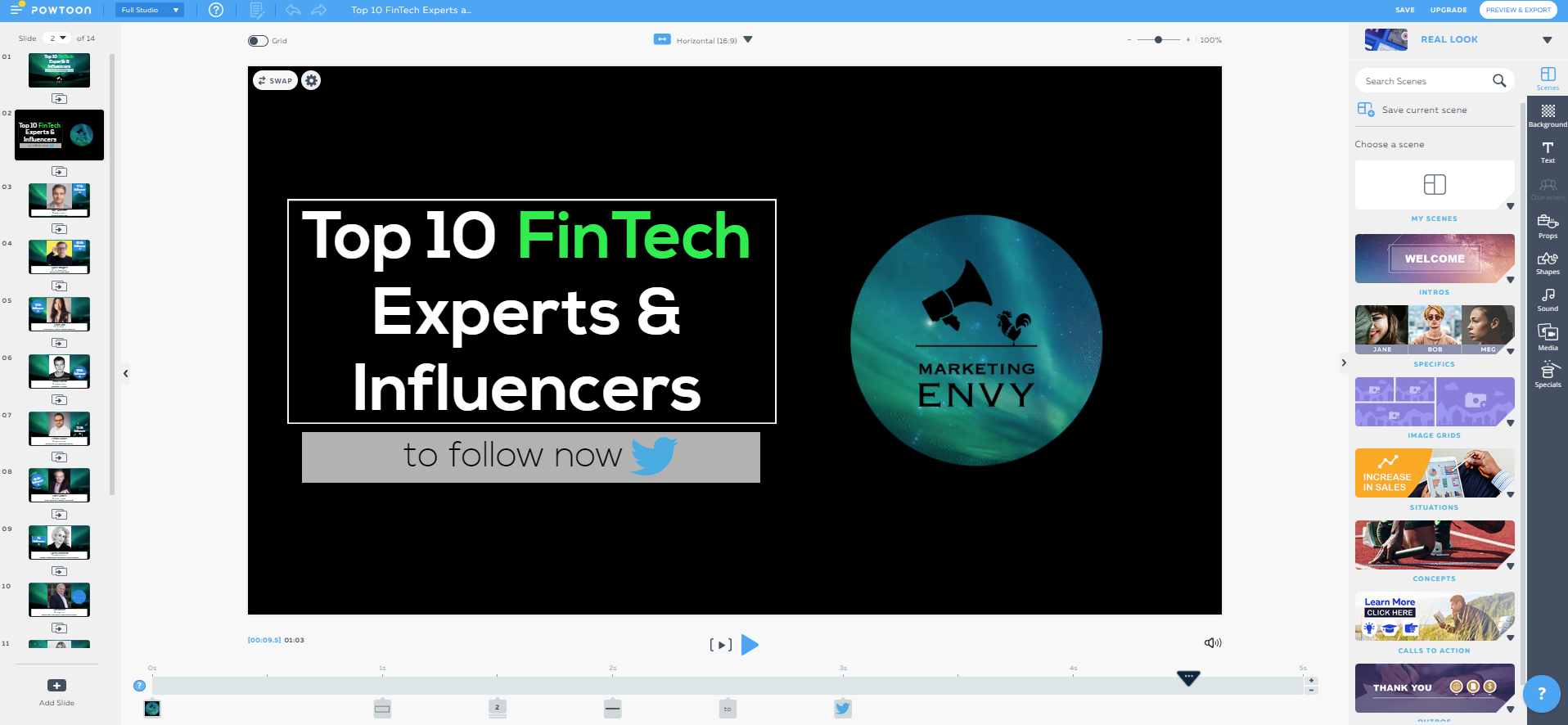 Powtoon dashboard
The Ultimate Top 10 FinTech Experts and Influencers List
Powtoon has a free version that makes animated videos only and displays the Powtoon logo throughout. It also offers a four-day premium trial with additional features (though not all features are available in the premium trial). After that, packages start at $16/month for the Starter package which offers 1 premium export per month and 1 GB of storage. The most expensive package is the Agency package, which for $99/month offers 100 GB of storage, unlimited premium exports and full HD videos, among other features.
Pros:
Easy HubSpot integration
Lots of options for customization of voice, text, transitions
Ample stock images, videos, and music options
Lots of template options if you don't want to create a video from scratch
Cons:
Dizzying array of features creates a time-consuming learning curve
Premium tools and features can get pricey
Bottom Line: The competitive price point, easy integration across multiple platforms including YouTube, Facebook, Vimeo, HubSpot, and Google apps, and excellent customization options offered by Powtoon made this the best option for our agency's needs.
Check out our updated list with expert recommendations here.
So What Should You Choose?


If time is of the essence or you don't need fully-customized videos, Lumen5 is a good option with a great price point. Just beware that the videos may look repetitive in the long run due to a limited photo inventory.
To make more professional and fully-customized videos, Powtoon is a much better option. The platform is easy to work with and boasts unparalleled features that can really take your videos up a notch (or two).
All three of these platforms are constantly evolving and adding new features, so it's worth keeping an eye on them as your own needs change. Have any other video platform suggestions? We're still testing the water and would be happy to hear what works for you!