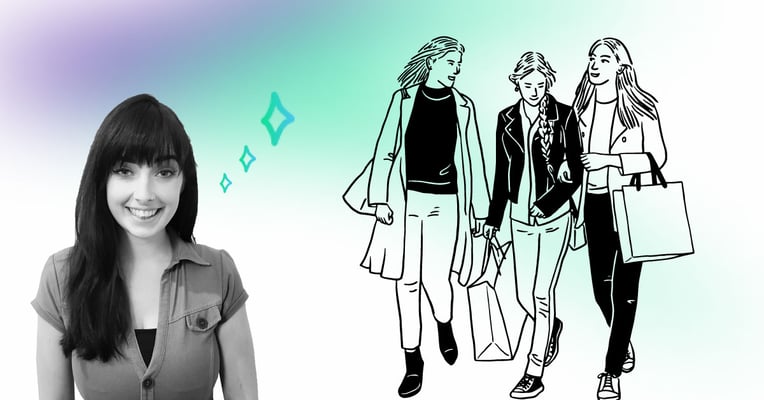 What's All The B2B Marketing Fuss About Black Friday Anyway?

Niamh Heaney
Did you know that the jolly fat man, with a white beard, twinkling eyes and a coat so red it'd hurt your eyes is actually the brainchild of a very smart Coca Cola campaign way back in 1931?
We were discussing the births of excellent campaigns during the holiday season like this in our office when it got us thinking, where exactly DID Black Friday/Cyber Monday come from? And how has it become ingrained as THE shopping days for massive sales and huge savings?
Black Friday, relating to the day after Thanksgiving in the United States and Cyber Monday, the following Monday, are THE two MAJOR shopping days in the US and the trend has already reached EMEA and elsewhere. A common misconception of Black Friday is that it is the first day of the year where retailers that have been operating in the red, finally get into the black due to shoppers spending like crazy on heavily discounted goods. However, that's not the case.
Black Friday and the shopping mania, stems from the early 1960s when police in Philadelphia tried to describe the chaos that ensued when huge numbers of suburban tourists came into the city to start their Christmas shopping. Over the years, this shopping mania day continued to grow in popularity until around the 1980s, where retailers started to market around the name and give heavy discounts on high value products.
The origins of Cyber Monday are a little easier to trace, due to the fact that it is an online based 'holiday'. The term was coined by Ellen Davis, then President of the NRF Foundation back in 2005, to signify the kickoff of online holiday shopping. The 'holiday' has grown in popularity and since 2014 has been increasingly successful (and therefore important) for online businesses.
In 2020, Cyber Monday was the biggest shopping day in US history with a whopping $10.7 BILLION spent. But that's not surprising. If anything was going to set the eCommerce world on fire, it was a worldwide pandemic where people physically couldn't go into brick & mortar stores to get their holiday shopping done.
Book A Consultation With A Marketing Expert Today
3 Tips For B2B Marketing on Black Friday/Cyber Monday
1.

Messaging Consistency
If you're advertising across social media/online sources/with PR, tailor your messaging for your specific audience, but ensure that there's a unified message going out and consistency across all channels.
Importantly, make sure that your SDR, sales and customer success teams are all on board with this campaign. If planned well, this should turn out to be a significant sales enabler. It will open doors and help close deals. It's important to remember that cross team preparations must be considered to accommodate the increase in demand... and the inevitable customer onboarding.
2.

Unification Of Messaging
As always, you need to understand where your customers are coming from and where to concentrate your messaging. With the understanding that you're a cyber company, concentrating your efforts towards Cyber Monday messaging is much more beneficial. If you're advertising across social media/online sources/with PR, tailor your messaging for your specific audience, but ensure there's a unified message going out and consistency across all channels.
3.

If You're New, Start
Small, Come Back Bigger
It's too late in the year to start thinking about your Black Friday plans now. However, that doesn't mean you can't test out some theories ahead of time. You can provide customers with a small discount to test the waters and see what they respond to. One idea is to send an exclusive offer to past customers to encourage them to come back. You can do this relatively cheaply via an email blast. Then when next year rolls around, you are ready to come back with a bang and have a strong, well thought out strategy for your Black Friday/Cyber Monday deals. You can start your Black Friday planning as early as June or July. This gives you plenty of time to start high-level preparation for the shopping season.
Though Black Friday and Cyber Monday are heavily B2C skewed, there is room in the space for B2B companies to take advantage. The aim for these is to set your Black Friday deals EARLY. This gives companies time to run the purchase up the flagpole and get approval.
Take these examples below that we love. You'll notice a trend here of businesses encouraging users to sign up for long term plans. This really enables them to get the full benefit of the platforms and increases their chances of resigning up the following year.
BuzzSumo, a content marketing platform, is offering 40% off their annual plan. Not only are they providing this as a limited Black Friday deal, they're ensuring users sign up for 12 months, meaning long term customers. The use of a countdown clock also helps to get the 'limited time' messaging across. The addition of showing in dollar amounts, how much a user will save will also help get this purchase approved.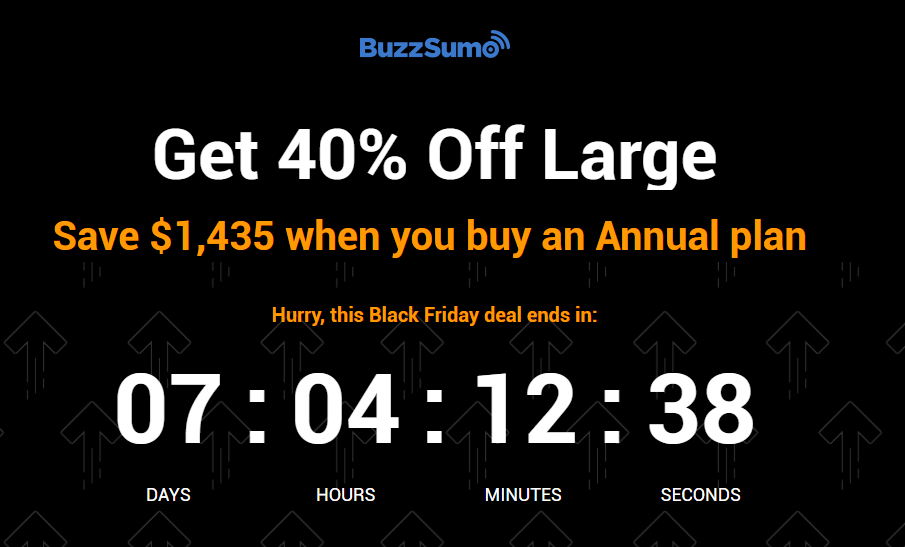 Panda Security is a cybersecurity software company that specializes in creating products for IT security. Initially just dealing in antivirus software they have branched out into providing and developing cybersecurity software. For Black Friday, they're offering 60% off all of their plans with a specific landing page dedicated to the offer, as well as breaking down exactly what you get in each plan. The use of a countdown timer helps to convey the urgency of the deal.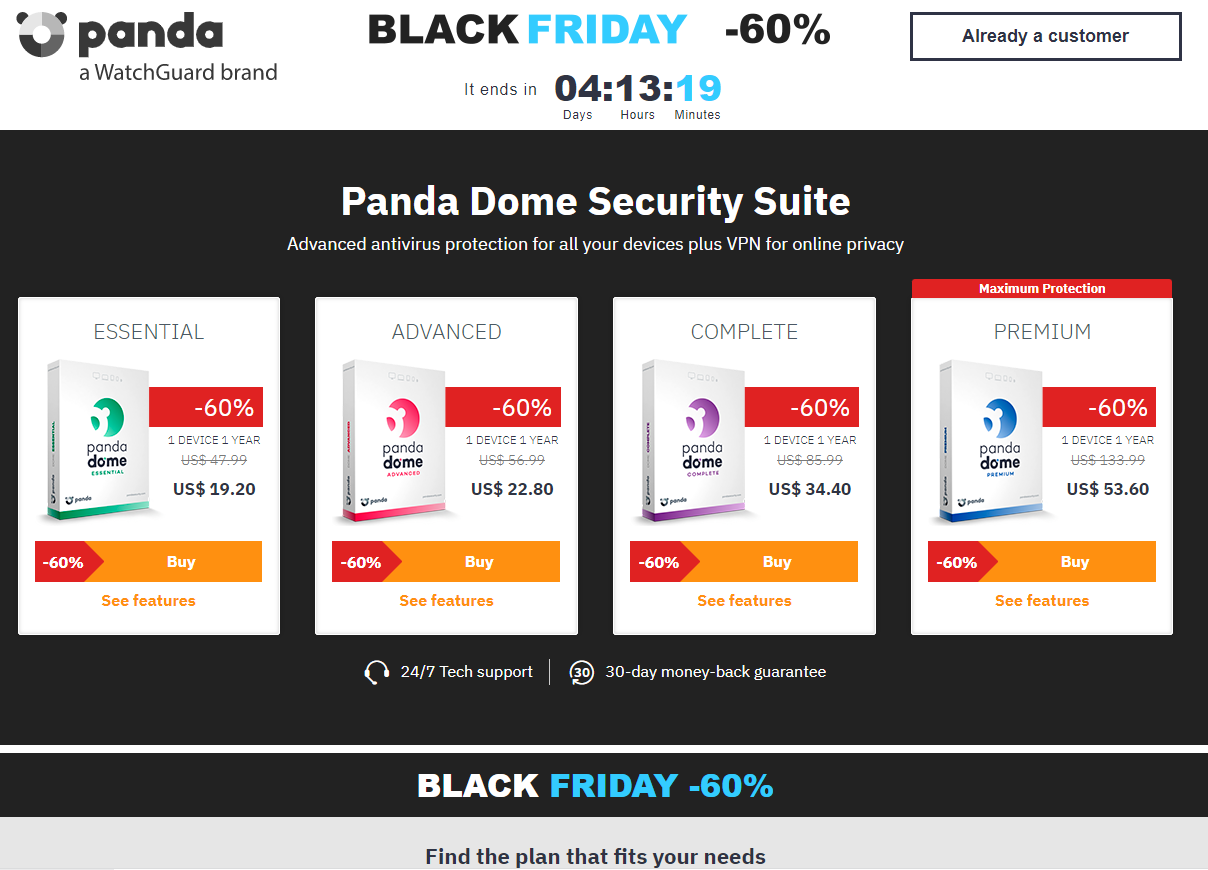 Cuentas is a leading FinTech provider of mobile financial app and payment solutions announced that this Black Friday they are partnering up with MASL (Major Arena Soccer League) and launching their Free Wireless/Fintech Combo Offer to the first 100,000 subscribers. This is free Unlimited Talk & Text as well as 200MB of high speed data for users.
LeadConnect is an outreach platform hosted by LinkedIn to enable lead generation on the social network. The great thing about this solution is you can integrate it with HubSpot! For their Black Friday/Cyber Monday deal, they are offering 25% off their semi annual and 40% off their annual plans.

Anyword is an AI copy generation tool that creates natural language messaging tailored specifically to your audience. Utilizing historical data and with the ability to input ideal example, AI copy is definitely the future. They are currently running their Black Friday sale specifically for new customers with 30% of plus a 20,000 bonus word credit to get you started.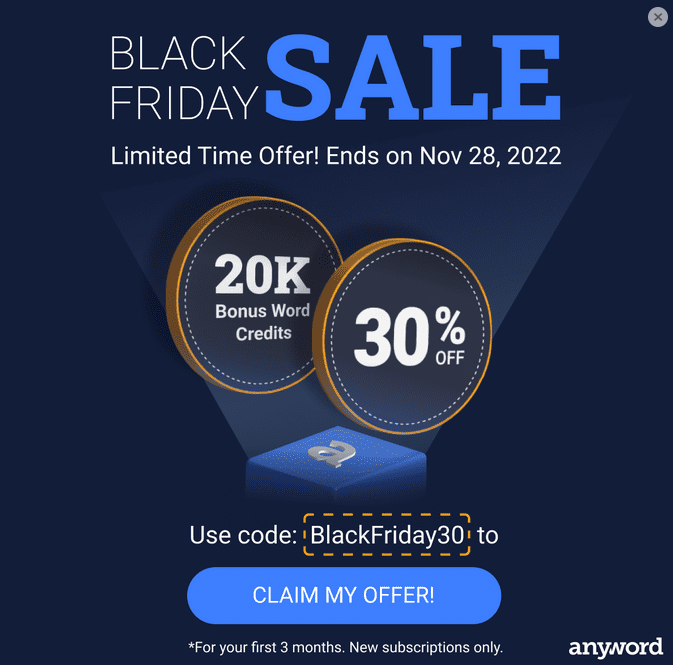 It's important to note that just because everyone else is doing Black Friday/Cyber Monday deals, it doesn't mean you need to as well. This needs to fit into your overarching strategy for what you want your marketing to achieve. With this in mind, you're definitely on the right track. And hey, if you'd rather not think about it, you can always give us a call to do the hard work for you!